Bio
Harrison Nichols – I started Fencing at the age of nine after joining an afterschool club at my primary school. I had never heard of the sport before but I instantly fell in love with it after trying it out (despite losing my first ever match, something I still remember!).  Plus, at that age all I wanted was to be a Pirate, so when I found out that that was not going to be feasible I went for the next best thing!  I played a lot of other sports as a kid – Tennis and Football specifically – but Fencing was unlike anything else and I started to really enjoy how personal and intense the competition is.  As I grew older I started to appreciate the lessons the sport was teaching me about working hard, not making excuses and controlling your emotions.  The feeling of winning a hard fight is unlike anything else I have experienced from any other sport, and although the life of training and competing can certainly be frustrating at times, those moments make it all worth it.
When I first started I never thought that I would be competing in Senior World Cups at the highest level of competition in the world! Despite the seriousness of competing at such a level, I believe it is still important to have fun and I often remind myself of the reasons I first started the sport.
My long term goals include competing in a Senior World Championships, medalling at a Senior World Cup and becoming ranked within the top 10 in the world. This would culminate with qualifying, competing, and hopefully medalling in the 2020/2024 Olympic Games.
Sponsors
Imperium Investments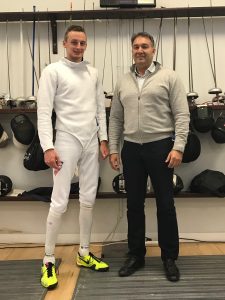 I am extremely happy to be supported by Imperium Investments, the GLL Sports Foundation and the Champions of the Future Westminster Scheme.  My sponsors make it possible for me to pursue my athletic dreams to the best of my ability, for which I am immensely grateful.
Education
I attended Oxted School before studying English Language at the University of Westminster in London. I hope to be graduating in the autumn of 2018.
Domestic achievements
Over 7 British Titles including 4x British Youth Champion (2009,2010,2011,2012), British Junior Champion (2016) and 2x U23 British Champion (2017,2018)
4x Elite Open Men's Champion (2016 x2 and 2018 x2)
Previously ranked No.1 in the UK for Cadets (2013), Junior (2015) and Senior (2017). Currently ranked No.5.
International achievements
14th at the Senior European Championships 2018
Silver Medal in the U23 Barcelona European Cup 2017
L8 at the Junior World Championships in 2015
4th in the Junior Team European Championships 2015
4th in the U23 Team European Championships 2017
Multiple L16 Finishes in Junior World Cups
Previously ranked 11th in the World as a Junior (2016)
Currently ranked 10th in the European U23 rankings (2018)
Athlete Quotes
Social Media