BIO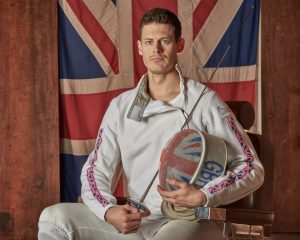 Richard Kruse started fencing at the age of ten and made his senior World Championship debut in Nimes, France in 2001.  He has been as high as number three in World (2016).  He has won seven World Ranking events (Copenhagen 2009/10, Venice in 2009, Havana 2016, Cairo 2018 and Shanghai 2017/8), picked up two European silver medals and two European bronze medals. Richard was also part of the British team that picked up three European bronze medals in 2010, 2013 and 2016 and the gold medal winning team for the inaugural European Games in Baku in 2015.  At the age of 19 Richard became Junior European Champion in 2002.
A four-time Olympian, Richard finished eighth at Athens 2004, fourteenth at Beijing 2008, seventeenth at London 2012 and fourth at Rio de Janeiro in 2016.  He is also a six-time British Champion.
Richard won a silver medal at the 2018 World Championships in Wuxi.
Richard Kruse has an engineering degree, plays the bagpipes and lists learning languages as one of his hobbies.  He speaks Hungarian and Spanish to a decent level.  He is also a keen traveller choosing to go down the path less trodden.  He has visited Albania, Kosovo, Moldova, Bosnia, Armenia, Kazakhstan and Kyrgyzstan.
Sponsors
If you are interested in sponsoring Richard please contact headoffice@britishfencing.com
Education
Primary: Moss Hall School, West Finchley, London
Secondary: The Compton School, Frien Barnet, London
University: City University London – Civil Engineering
Athlete Quotes
"I took up fencing in 1994 at the age of 10 when I bumped into a fencing coach in a supermarket.  He encouraged me to take up the sport to occupy my time and focus my energy.  He is still my coach today." "The best thing about fencing is you get to sword fight for a living."
"My advice to a young fencer would be to thoroughly warm up and down."