Muslim Girls Fence is a project collaboration between Maslaha and British Fencing which aims to facilitate spaces at a grassroots level for Muslim girls and women to challenge assumptions and narratives relating to their gender, racial, religious and other identities through both physical and creative methods.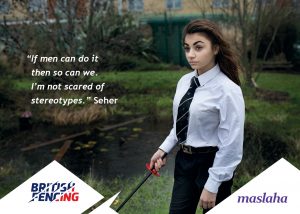 The initiative also looks to break down conceptions of fencing as a white-dominated, elite sport that is not accessible to young people of all backgrounds.
British Fencing provides training opportunities to up-skill women from the local community to deliver safe, fun and engaging sessions, as well working with existing fencing coaches who can support the delivery and open up opportunities for women to get involved.
"It's definitely something I want to carry on, It makes you more confident and unique and is something that brings you together." Student from Frederick Bremer School
"I really enjoyed the ability to discuss different things, getting to know amazing likeminded women and build my confidence in fencing." Participant from London
Become a Muslim Girls Fence Community Coach in Birmingham
We are delivering a two day Core Coach Course on Saturday 18th and Sunday 19th January 2020.
The project is looking for enthusiastic, empathetic and engaged women who can create an environment which is welcoming to women who may not usually engage in sport or feel sporty at all. Whilst you will be taught core fencing skills to be able to coach at a community level on 12-week courses, we will also be equipping you with the skills to facilitate a safe environment where you can start conversations with participants that create a sense of community.
You do not need experience coaching a sport necessarily, perhaps you are skilled in working with community groups? Or in local organisations? Maybe you run an arts session? Or teach in the local mosque or youth club? Or maybe you are simply a friendly figure in your community with links to different spaces and people? Click on the link below to find out how you can get involved.
Watch the video