Through our partner programme and the likes of PGL Travel Ltd, Kingswood Inspiring Learning, Premier Activate and Multi Sport Pro (to name but a few) sharing their data, we can see fencing's true footprint in the UK.
British Fencing are proud that we train up coaches directly but also through a Licensed Partner Programme so that more and more Community coaches are trained up to deliver Swordplay based fencing.
In the last few years we have learnt an awful amount about these hundreds of thousands of fencing experiences. The one unifying element across our partners is that the content being coached has had a key focus on fun, being games based and where delivery has been most popular, is when it links into Swordplay activity.
In summer of 2018 British Fencing will launch a brand new App for mobiles and tablets initially. Games that require a mug and pen, a tennis ball and just a bit of imagination will be found in the app featuring James Honeybone and Kate Beardmore who are top international fencers.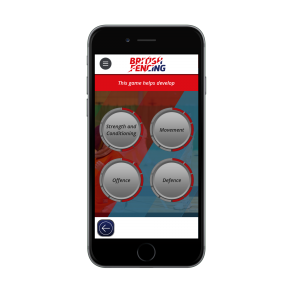 The App will have a free access route that we call "Explore Fencing" and then for the 1,200+ Community coaches that we train up each year (as well as any other British Fencing Coach) it will have a Coach Access log in.
In terms of Coaches access then we have plans to deliver other content through the app, but first things first is to get it launched.
The App is fully controlled by a back end that British Fencing can fully manage and update.
The App offers:
Standardised content – each game is the same and therefore to collaborate on Swordplay games has never been as easy. If you have content and want it to be endorsed with British Fencing's Swordplay games App then please do get in touch using the form below.
Interactive content – has function to do 360/VR content as you will see in the Explore Fencing side of the App.
Indicative score on what that game is best for.
Top Tips, Fun Facts and Progressions for each game and where relevant links out to more resources.