2019-20 Annual Report Series – The Directors' Report
BF launches a series of articles based on the full 2019-20 Annual Report, starting with the Directors' Report. 
In the run up to the BF AGM on October 10th, we will be publishing a series of articles taken from the full 2019-20 Annual Report (found here).
The first of these articles is the Directors' Report which includes a summary of progress in key areas of work, accompanied by the diversity and governance statements.
Introduction
For much of the year ending March 2020, British Fencing (BF) continued to make progress on our strategic objectives, which we report on below for our members, funding partners and stakeholders. However, it is important to acknowledge that our operating environment significantly changed because of Covid-19 in March 2020 and our focus naturally changed to supporting and protecting our sport and members. As we emerge from this, the Directors do expect that our strategic objectives will remain broadly intact.
Our vision is for a strong, successful, and sustainable fencing community with a mission to inspire and enable people to start, stay and succeed in fencing underpinned by our core values of honesty, respect, and excellence.
Our strategic objectives remain unchanged:
A pathway to International success
A stronger, empowered community of 30,000 fencers, volunteers, coaches and supporters
Accessible inclusive swordplay opportunities delivered via partnership programmes
A sustainable future supported by high quality governance and infrastructure that is financially resilient
Maximise the wider benefits of fencing and the positive impact it can
have on people's lives
To deliver our objectives the Board prioritises and monitors, through agreed performance indicators, seven strategic areas:
1.      Leadership, Culture and Governance
The Board believes it is important to lead by example furthering the BF values of Honesty, Respect and Excellence. We have continued to provide transparency through updates to members throughout the year and to support the BF executive team. Board members remain involved in many aspects of our sport on a volunteer basis, allowing interaction with the wider community but also providing 'real life' input and feedback to Board decisions.
The Board is pleased to report that BF continues to comply with all aspects of the UK Code for Sports Governance.  It remains our aim to be a well-run National Governing Body conforming to best practices according to this code.
There were no changes to the membership of the Board of British Fencing in 2019-20.
2.      Sustainability and Core Services
Financial sustainability remains important to us and our aim is to set and meet a broadly balanced budget each year. Of course, if we feel it is necessary to invest in important activities that might result in a temporary deficit, we will consider this as we have a reasonably strong reserves position.
The Board authorised a budgeted deficit of  £3,241 for 2019-20 and we achieved a small surplus of £1,328 through tight management of expenditure to achieve the best value we can for members. The Board continues to monitor financial management and risk through the AGRC chaired by John Troiano.
Our strategy to increase commercial revenues remains. These activities, mainly covering Coach Education and licensing of the BF brand have now produced a reasonable surplus in 2019-20, as well as an exciting pipeline of new license offerings. Any surplus helps us to support our core activity in supporting and growing the sport of fencing.
From March 2020, BF continued to deliver adapted services to members and stakeholders in accordance with Government advice.
The Board continues to monitor the impact of the pandemic on the operations of the company, its members, partners, stakeholders and on the wider society, ensuring that both resources and processes are in place to best mitigate any disruption to operations.
The Board anticipate that income will be impacted and that reserves will be sufficient to cover resulting deficits in 2021-22.
3.      Membership & Club Support
The Board is united in believing that all active fencers should be members of BF – we are after all fighting together for fencing.  Membership income is vital to us building a financially resilient organisation that can deliver better services to members and clubs.
Membership income for the year came in at £414,755 (compared to £415,352 in 2018-19).  £154,934 of this was paid on to the Home Country Associations (compared to  £155,611 in 2018-19) leaving  £259,821 available to BF to support delivery of those services.
England Fencing continue to fund a Development Officer for Clubs and Regions providing valuable support in the absence of public funding to support this area.
4.      GBR Athlete Support & Development
After last year's effort in creating a structure to administer and support Senior athletes to represent GBR, a significant focus this year has been on our Athlete Development Programme, funded by Sport England. This continues to develop with good feedback from fencers and increasing adoption by coaches. It has also been extended to U23s with the intention to expand in the future to incorporate Senior fencers. This continues to be funded by Sport England  (£192,000 in 2019-20) and no membership income is allocated to this programme.

We received £140,536 from UK Sport's new Aspiration Fund investment in 2019-20 to assist individual athletes and teams through qualification for the Tokyo 2020 Olympic Games.

This year the number of qualified Senior fencers at the Worlds and Europeans increased significantly. At the Worlds, all six weapons were represented and 17 of our fencers reached the qualifying threshold in five weapons (a 70% increase). Marcus Mepstead followed Richard Kruse's success last year with another silver medal at 2019 World Championships in Budapest. Both Marcus and Richard received Medal Support Plan funding from UK Sport during the year.
5.      Insight led, participant centred Projects and Programmes
We continue to support some great programmes, majority funded by Sport England, working with partners and stakeholders including London Youth, Maslaha (Muslim Girls Fence) and The Scout Association. These projects continue to make a measurable difference to a range of communities. These underpin our belief that fencing can and should be a sport that is accessible to all, increasing exposure of more people to the benefits of sport and physical activity as well as improved mental wellbeing.
We have a new Chair of the British Fencing Charity this year with extensive fund-raising experience and together with new Board members from last year with experience in this area, we have started to plan how to extend our programmes, with our partners.
6.      Events, Competitions and Calendars
We have been consistently improving the financial performance of the BF events portfolio in recent years. Excluding staff time, our event portfolio has not made a loss, which is a big step towards our goal of delivering a surplus to reinvest in improving our sport. Our licensed event structure is progressing very well and we have a project underway to automate rankings. These will provide a foundation for further improvement and efficiencies in this area.
7.      Coaching & Workforce Development
We have delivered more coach education opportunities than ever before – through a combination of BF led delivery and licensed education partners, although the take-up of these opportunities at club level has plateaued this year. We continue to invest in upgrading courses and creating new tools to support existing coaches working in different environments.
Overall the Board is pleased with progress this year and would like to thank all the staff at BF for their hard work. Of course a massive thanks also to the volunteers for their commitment in support of our sport.
Board of Directors as at March 2020
Paul Abrahams
Thomas Cadman
Janet Campbell
Anne-Catrin Sallaba
Tomas Curran Jones
Reedah El-Saie
Clare Halsted
Yashmin Harun
Mark Lyttle (Chair)
Caryl Oliver
Matthias Ossyra
John Troiano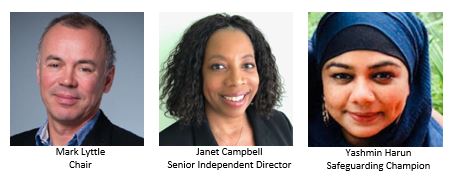 Diversity Progress Statement as at March 2020
As at 31st March 2020, 6/12 Board Directors are women (50%) and 25% of the occupied  Director positions are BAME. The Board met its targets in respect of gender diversity (minimum 30% of either gender) and other identified protected diversity characteristics.  The Board continues to work towards maintaining gender diversity and increasing representation from young people, BAME and people with disabilities.
As at 31st March 2020, 4/7 members of the BF Executive Team with area management responsibilities were women (57%).
Governance Progress Statement as at March 2020
In November 2016 a new Code for Sports Governance was published which sets out a range of requirements that BF and other organisations in sport must meet to be eligible for public funding.
BF became fully compliant in 2017-18. The Board regularly reviews this status. Much of the work to remain compliant is now embedded into the work programme of the Board and policies and activities were reviewed and performed in accordance with the annual Board work programme. There were no areas of outstanding compliance identified.
The full 2019-20 Annual Report along with the accompanying accounts can be found here.