2020-21 Annual Report – Membership & Clubs
This article forms part of a series of reports which accompany the 2020-21 BF Annual Report.      
Membership
During the 2020-21 financial year, membership was affected heavily by the COVID-19 pandemic. We lost just over a third of our membership over the year finishing with a total of 6457 in March.
Within this total the percentage of each individual membership category has remained on par with where it was at the start of the year, meaning that no one membership has reduced more than any other.
| | | |
| --- | --- | --- |
| Membership Type | Percentage of total April 2020 | Percentage of total March 2021 |
| Compete | 72% | 72% |
| Recreational | 17% | 14% |
| Starter | 4% | 6% |
| Supporter | 6% | 4% |
Financially we ended the year just over a third down on the previous year with cash figures for individual memberships of £256,162. (With clubs included the total is £271,525 which is reported as £350,281 due to the way membership revenue is required to be reported). The trend of financial income did reflect the previous year but due to COVID-19 the totals were significantly down.
With membership being the third biggest income stream for BF it has been a hard hitting year, however the team has pulled together and is working hard on recovery plans for 2021-22 to help recapture membership levels and push them on as we return to fencing.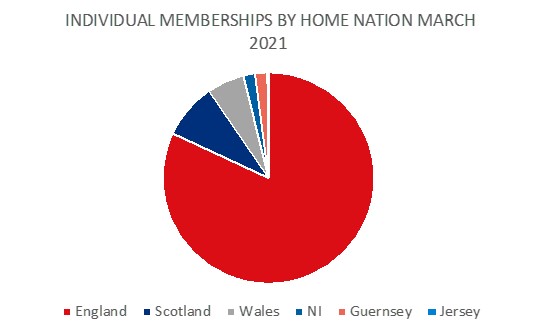 Clubs & Regions (England)
The purpose of the Club and Regions Officer is to support our affiliated regions, clubs and members. Whilst the focus is on England (as the role is funded by England Fencing), much of the work done is applicable across the UK.
The Club Digest has continued throughout the year providing BF affiliated clubs with much needed guidance, from COVID-19 restrictions to accessing funding, as well new BF initiatives such as the Playwaze platform and digital membership cards.
Over 600 members are signed up to receive the digest as of March 2021 with the open rate sitting just over 40%.
Beyond digests and regular club communications BF launched the Community Discussion Event Series. The initial aim was to bring together members through digital meetings in order to update them with the latest COVID-19 information and to give them a space to ask any questions or tell us about the issues they were facing on the ground. The initiative has proved hugely popular and the intention is to keep the series going forward and to expand the topics and range of discussions being had. Over 153 clubs participated in these events by end March 2021, with almost 1000 individual sign-ups across 20 events.
In addition to the community discussion events BF has been running Club Polls designed to give a snapshot of how the community has been managing their activity and members through the pandemic. As of March 2021 BF had completed 3 polls in September, October and November 2020 which saw over 300 responses in total. BF will continue to run Club Polls to ensure we have insight from clubs that allow us to really understand the current state of play, as well as ensuring we are using internal resources in the right way to support clubs in their return to fencing. It has been evident through the size of responses that we have a good level of engagement from the community and it is important that we continue to gather feedback. We will continue to be led by insight from the community on how we continue to support them moving forward.
At a regional level, BF was awarded a Sport England grant to undertake an independent review of Regional Governance practices on behalf of England Fencing and BF. As part of the review process BF has commissioned Jackie Bryson to act as a consultant and guide the project. Since early September 2020 members of the BF team, alongside Jackie, have been working very closely with the 10 regional committee chairs and EF to begin to understand what it is that we do well in terms of governance and highlight the important areas to improve. Following an initial survey completed by the regional chairs in February 2021 there have been several project meetings across various working groups to begin to formalise and align governance within the partnership structure. The project so far has been invaluable in renewing and improving regional relationships and therefore, as we look to recover from the pandemic over the next year or so, we hope to build on this work to help improve the fencing experience for all.
The full 2020-21 Directors' Report can be found here.
Don't miss the latest news. Subscribe to our weekly summary email, The Fencing Digest, featuring the previous week's latest news and announcements. Sign up here.