2021-22 Annual Report – Membership & Clubs
This article forms part of a series of reports which accompany the 2021-22 BF Annual Report.      
Membership Overview 
BF's individual total membership at the end of March 2022 was 10092 in comparison to 6457 in March 2021 and 10630 March 2020. This demonstrates a relatively fast recovery following the post-covid restart of fencing activity from July 2021.
Financially the year ended at £322,397.  Whilst the cash sales taken for club and individual membership increased during the year (£271,525 to £382,527), due to the way we are required to recognise membership income (spread across the membership term, rather than at point of sale), the figure above is showing as down on the previous year, due to impact of low membership numbers in 20-21.  However, as cash sales have continued to recover, this figure is anticipated to be considerably closer to pre-COVID levels for the year ended 31 March 2023.
The spread of membership types remains consistent with previous years' figures, the Competitive category still being our biggest cohort:

Home Nation splits remain broadly consistent with previous years: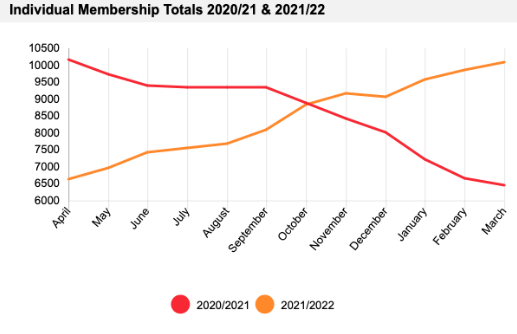 Summary
In 2020-21 (during the pandemic) our priority was to continue to support and engage online with our clubs and membership. As we entered the 2021-22 financial year our focus moved to preparing and supporting our members in returning to fencing when we could as safely as possible. This was done through holding Community Discussion events, publishing resources, interpretation of government guidance, and responding to ad-hoc questions and queries.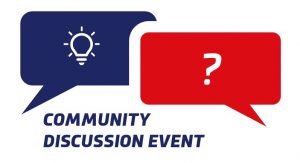 Online Community Discussion events continued to thrive with 28 separate sessions held and over 740 individual sign ups. The club admins and welfare officers sessions have turned into a permanent regular feature moving from being Covid focussed in the early part of the year to covering more general topics such as membership management systems and safeguarding as activity restrictions came to an end.
We have also used online discussions to engage different members of our community (for example Referees, Event Organisers, Volunteers, Students, Community Groups) on a variety of topics such as Referee remuneration, Ranking Schemes and Environmental Sustainability.
A series of Listening Events, each designed to focus on one particular demographic have also been introduced. Supported by Board Directors, these sessions give an opportunity for community members to highlight their different experiences in fencing, give feedback and share their ideas for improvements. Events were run for LGBT+ members, ethnically diverse members, and transgender & non-binary members. Events were also held with members of the para fencing community as part of the transfer of responsibilities to BF from British Disability Fencing.  These events provide vital insight as BF seeks to deliver on its ambition to ensure fencing is inclusive and welcoming to all participants.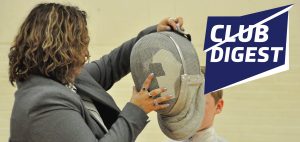 We continued our regular Club Poll which provides a snapshot of activity to help us better understand the local landscape/challenges for clubs and where additional support could be targeted.
The Club Digest continued throughout the year providing BF affiliated clubs with information on a variety of topics including restarting fencing, funding opportunities and club volunteer training opportunities. Clubs can also find links to our webinar resources on topics such as Risk Assessment and Creating a Welcoming Club.
January 2022 saw the official launch of the GB League following a successful pilot in late 2021. The league is a new, exciting recreational experience that has been designed for BF affiliated club members to earn national league points for participating in competitive club fencing in designated round robin fixtures.
There are 5-Hit and 15-Hit formats available across each weapon with traditional boundaries of age groups and gender removed, so that all members (BF Recreational level or above) can fence each other and earn GB League points. Between January and March 2022, there were 22 GB League fixtures hosted across all six different formats. These fixtures were hosted by seven different BF clubs, some of whom have taken to having weekly fixtures for their members. Over the next year the ambition is to grow the GB League and expand into different formats, for example teams, making sure we offer our members the best recreational experience.
GB League runs on the Playwaze platform (originally introduced in 2020 to help clubs track and trace members for a safe return). Playwaze also allows clubs to advertise their club and club activities through the BF activity finder and users of the Playwaze app.
BF Perks a new section within the BF membership platform, was launched in June 2021. Free to members, BF Perks can be found through the BF membership platform (Sport80) providing access to financial savings, wellbeing tracking, learning opportunities and fitness activities.
Looking Ahead 2022-23
Membership
Our aim is to return to and exceed pre-pandemic membership levels. This will be through exploring enhanced membership benefits – for example identifying how BF Perks can help members reduce costs at a time when finances are under increasing pressure.
Our new Membership Officer will be developing additional resources to support the beginner journey in sport, including a dedicated section on the BF website to provide information and resources to those experiencing fencing for the first time.
Clubs
Following the pandemic club development remains a key focus for BF. A new BF safeguarding volunteer structure (replacing regional welfare officers) is being bought in to support club welfare officers, and with BF's new responsibilities with for para fencing we will be looking to help clubs to expand their community offering and provision.
We are aware that underlying our healthy membership numbers there are some clubs still facing significant post-pandemic challenges and we will be working with clubs to overcome these.
We are also mindful of the wider challenges of venue availability and rising costs and will continue to identify opportunities for clubs to access funding and support them in making funding applications.
We will continue to engage clubs through our Community Discussion events and return to our programme of in person club visits.
GB League
This will be an exciting year for the GB League. BF aims to have a high number of participants taking part with opportunities for clubs to rebuild their member bases by offering something new to welcome back participants. We also hope that clubs will start to rebuild their local networks following the pandemic by sharing fixtures and pooling resources.
There will be pilots of new formats to consider such as teams as well as adding in a plastic league design to give wider members of the community a chance to engage.
BF will be launching the 'Made of Mettle' award designed to highlight the volunteers and supporters who make initiatives like this happen by working tirelessly within their local fencing network.
The full 2021-22 Directors' Report can be found here.
Don't miss the latest news. Subscribe to our weekly summary email, The Fencing Digest, featuring the previous week's latest news and announcements. Sign up here.