2023 PARA FENCING NATIONAL CHAMPIONSHIPS – REPORT
BF Exec Weapon Lead (Para) Nathaniel Lewis reports on the Para Fencing National Championships, which took place on the 15-16th July 2023 as part of the Para Sport Festival.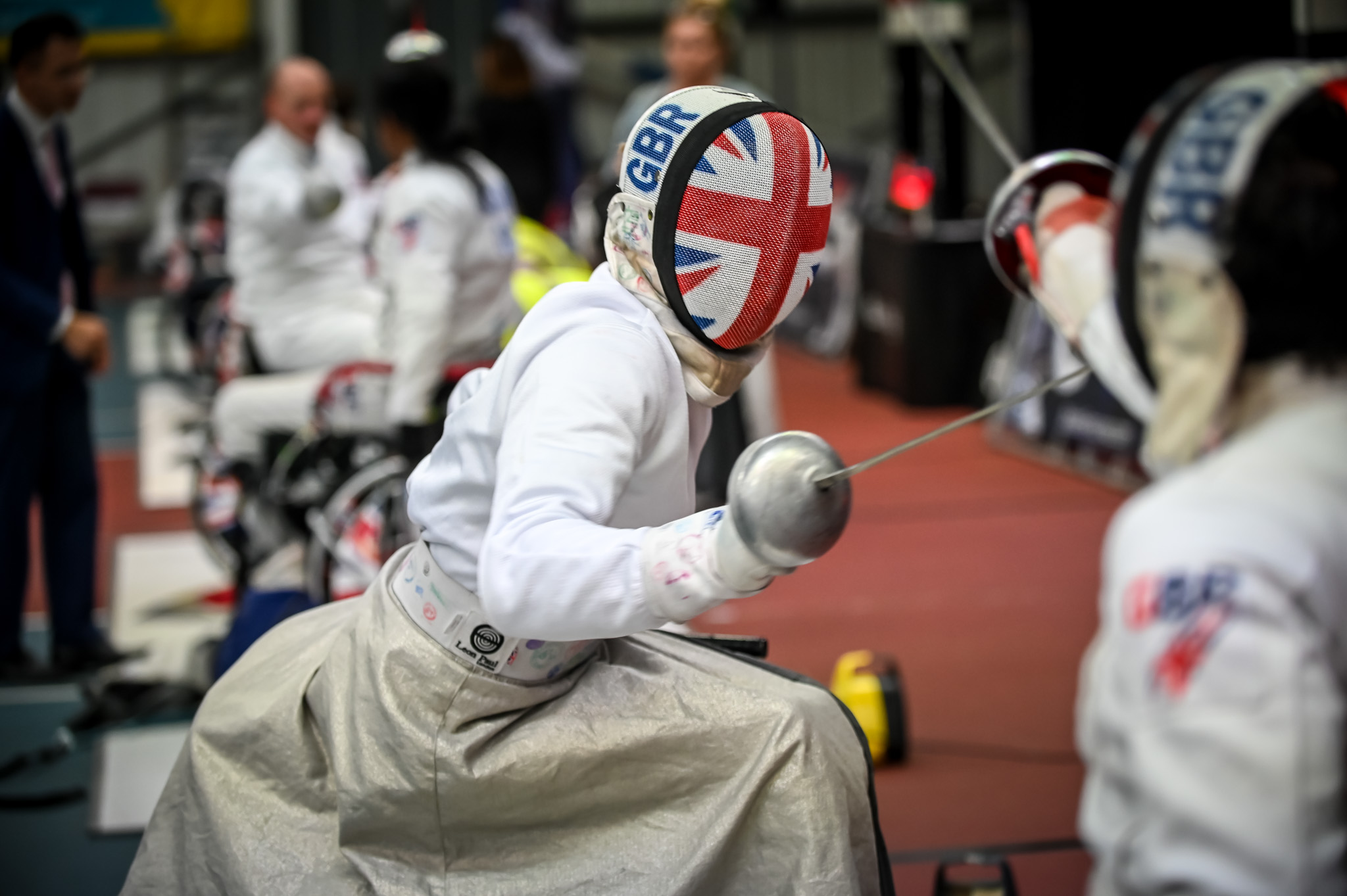 Saturday – Men's and Women's Epee
Athletes braved the inclement Swansea weather and sideways rain to compete at the Para National Championships, held as part of the Disability Sport Wales 2023 Para Sport Festival. Action got underway on Saturday with the Men's and Women's Category A and B Epee. With Cat A and B fencers mixed together for the majority of the day, it was a hard-fought event which saw athletes with Paralympic experience challenged by domestic fencers as well as members of their own international squad.
In Category B Dimitri Coutya came through to claim gold, while Oliver Lam-Watson in Category A triumphed over his teammate Joshua Waddell to take the trophy. Matt Clement, in only his second-ever wheelchair competition, produced a sterling effort in the play offs, going the distance against stiff competition from Stuart Gurney and ending the day with a Cat A bronze.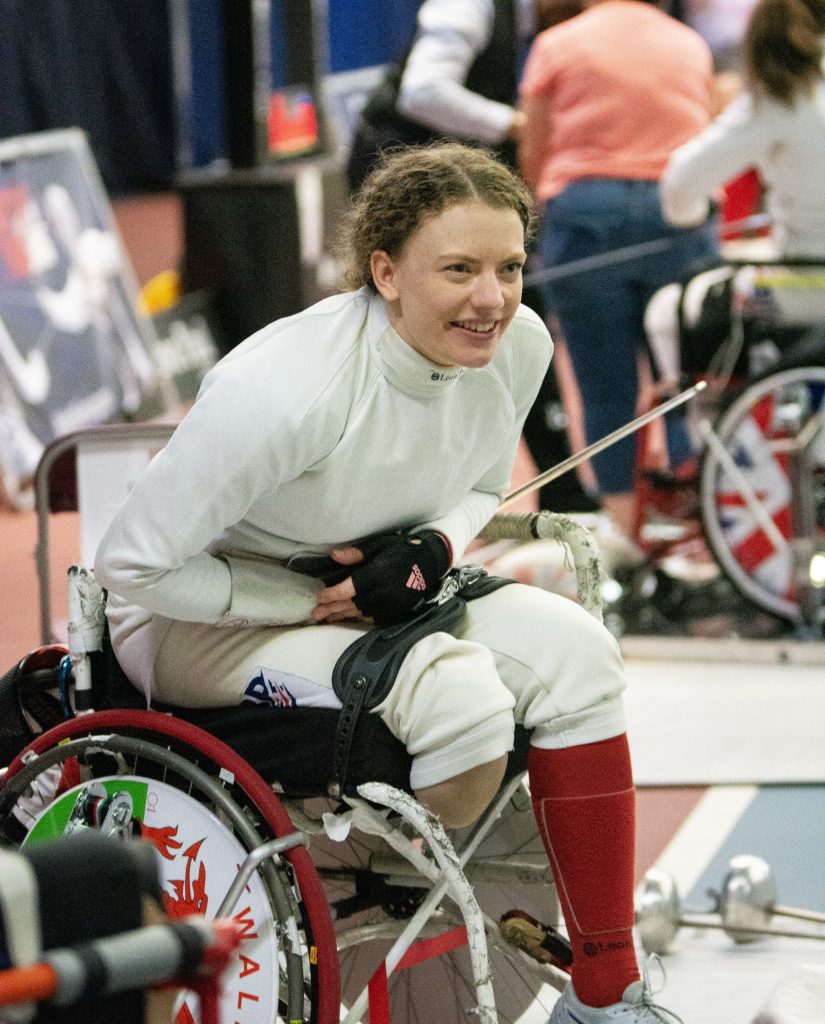 Competition was similarly tough in the ladies' event, with Justine Moore and Gemma Collis, both fresh from international duty in Warsaw, fighting through a mixed field to claim gold in Cat B and A respectively. Category A silver went to Abigail Marshall, with Susie Seddon-Cowell settling for bronze after a stunning match that was decided by a single point in favour of Marshall.
Results
Men's Epee 
Cat B
Cat A

Gold – Oliver Lam-Watson
Silver – Joshua Waddell
Bronze – Matthew Clement
Women's Epee 
Cat B
Cat A

Gold – Gemma Collis
Silver – Abigail Marshall
Bronze – Susie Seddon-Cowell
Sunday – Men's and Women's Foil and Sabre
Sunday dawned bright and fierce, a mood matched by the fencers as the foil got underway in the morning; the Women's event showed that a small entry is no barrier to quality fencing, as Abigail Marshall and Justine Moore claimed golds in the Cat A and B events respectively, with Emily Holder challenging for a shot at the trophy in the semi-final.
Lam-Watson and Coutya continued their winning streaks from the previous day, each claiming a gold in their respective categories, with Waddell hot on their heels to take silver in Cat A. These results set Lam-Watson and Coutya up for potential clean sweeps as the venue geared up for the sabre competition in the afternoon.
The fencers took to the piste to the sound of gunfire from the target shooting finals taking place in the same hall, and the action followed in similarly brisk fashion with Susie Seddon-Cowell facing up against Gemma Collis in the ladies' Cat A final. This was a match that would go right down to the wire with both fencers making stunning use of distance in attack and defence; the scores remained within touching distance right to the last, before Collis was able to land a lightning-fast attack to clinch the gold, 15-13.
In the men's sabre both Coutya and Lam-Watson continued their impressive runs of form to claim a gold each in Cat B and A respectively, with Lam-Watson joined on the podium by James Burke, taking Cat A silver in the second National Championships of his career after a hard-fought match against Bath Swords' Henry Patient in the playoffs.
Dimitri did well to contend with a late charge from Shah Rashid who came within one point of dethroning Coutya late in the day, both fencers pushing each other to produce excellent performances at the end of a long two days of competition.
A huge congratulations to all the competitors, and a massive thank you to all the volunteers, referees, and organising staff involved in the event.
Results
Ladies' Foil
Men's Foil
Cat B
Cat A

Gold – Oliver Lam-Watson
Silver – Joshua Waddell
Ladies' Sabre
Men's Sabre
Cat B
Cat A

Gold – Oliver Lam-Watson
Silver – James Burke
---
Don't miss the latest news. Subscribe to our weekly summary email, The Fencing Digest, featuring the previous week's latest news and announcements. Sign up here.