BIO
Susan Maria Sica started fencing at the age of 9 at S.S. Lazio Scherma Ariccia with coach Elisabetta Castrucci later joined by Tullio De Santis.  She is an athlete with dual Italian/British nationality and after fencing for Italy up to her third year as a Junior she switched to become a British fencer in September 2018.
She started her fencing career in the Italian U14 division obtaining several golds at regional and inter-regional level and a bronze at national level.
She won a gold in Klagenfurt  and a bronze in Bratislava in the European cadet circuit, as well as obtaining various medals in the Italian events including a silver in a U20 national at the age of 15.
As a junior she achieved the top 8  twice in a Junior World Cup, won a silver in the U23 Italian Championships and a silver in the senior National Coppa Italia.
She was part of the senior elite program and was reserve for the Italian national team at both cadet and junior level at the European and World Championships.
Since she became a Senior, in September 2018, she has won the senior British Championships 2019, was 9th at the European U23 Championships 2019 and is currently ranked 1st in the European U23 circuit.  Winner of the Circuit U23 Cup in Women's Epee 2018/2019 season.
After Fencing her favourite pastimes are reading, playing table soccer and of course, being Italian too, she enjoys cooking and eating!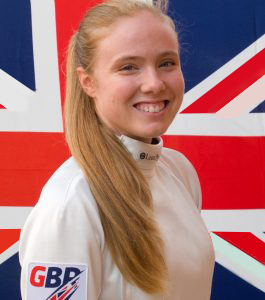 Sponsors
Education
Secondary School – Liceo Classico Ugo Foscolo, Albano Laziale (Roma) Italy, Diploma in Classical Studies.
University – La Sapienza di Roma Italy, degree in English and Russian (ongoing)
Athlete Quotes
Per aspera ad astra
Social Media