"Highly Innovative" and 'A Bold Undertaking'
Over the last two years British Fencing have engaged in a significant piece of work, funded by Sport England, to establish a future proofed coaching development framework for fencing based on the most up to date research and best practice available.
The UK Coaching Framework Context
The UK Coaching Framework has provided the coaching industry with a common vision and a practical reference point to drive the development of excellent coaching practice over the period 2013-17.
In 2015 the UK Coaching Committee, a stakeholder group comprising of Sports Coach UK, UK Sport, Sport England, sportscotland, Sport NI and Sport Wales initiated work to evolve the UK Coaching Framework through a better understanding of:
What might the UK coaching system look like in 2026?;

What trends and societal changes will influence coaching?;

What direction does coaching need to take to keep up with those trends?
The Future of Coaching report, concluded with four aspirations for coaching by 2025:
Coaching recognised for the benefits it brings to society;

A flexible and agile workforce reflective of society;

Coaching developed to meet the full range of customer motivations;

Coaching embracing technology.
These aspirations were the foundation of Sport England's Coaching Plan for England. British Fencing Development staff formed part of the working groups for the development of this plan, which was launched on the 29th November 2016.
See sportscoachUK's video on the Future of Coaching here.
The 2015-16 BF Coaching Review & Consultations
In July 2015, the British Fencing Coaching Development Manager, Steve Kemp, initiated a review of the current coach provision and structure of fencing coaching.
One conclusion of this review was that the development of a coaching system within British Fencing, for various reasons, had been unable to fulfill its potential and could not be recognised as an industry standard scheme. It was agreed that a key outcome for coaching development in fencing was to create an industry standard coaching programme, based on the needs of those taking part in fencing and the type coaching required to provide the best fencing experience.
"Coaching is unlocking a person's potential to maximise their own performance. It is helping them to learn rather than teaching them", Sir John Whitmore, Founder of Performance Consultants International.
By its very nature, coaching is a sophisticated process of human interactions and there are various types of coach, each with varied knowledge and skills. These skills are required to meet the needs of the specific type of fencers.
The review highlighted that the interactions where fencing coaching takes place are different and evolving environments. They are influenced by ideological, institutional, cultural and national constructs.
To gain greater understanding of these constructs within fencing, a further consultation took place with organisations such as, Sport England, Sportcoach UK, UK Sport, English Institute for Sport, and National Governing Bodies of Sport including England Hockey, RFU and the LTA. This consultation led to the recognition that the coaching framework needs to relate to recent changes in sports participation and sport performance.
Further discussions took place with the fencing community and senior academics in the fields of sports coaching and sports & exercise science to understand how this can be achieved in fencing.
This research led to underpinning coaching concepts such as Athlete Centred Coaching, Coaching Philosophy and Reflective Practice.
The 2017 BF Coaching Development Framework
The outcome of the reviews, research and consultation shaped the four underlying principles to the BF Coaching Development Framework:
Culture of Learning – This relates to the fencing community as a whole, to continually increase its knowledge of and competence and performance in our sport. The purpose is to make a step change in raising the standards of fencing coaching as a 'conscious act' (e.g. 'are you the coach you want to be' or 'the coach your fencer needs'?). It aims to help coaches identify what they don't know and therefore receive training to development themselves in areas of need;
Continuous Improvement – This is based on the principle that the best coaches are reflective practitioners and look for the next opportunity to learn and refine their coaching behaviour;
Flexible Modules – The Framework importantly offers:
a) recognition to people with prior coaching experience and;
b) knowledge on 'how to coach' which is available in various formats and is delivered in a variety of ways (e.g. informal, semi formal and formal).
Coaches are Valued – The Framework sets out to ensure that BF and the fencing community consistently recognises everyone on the Coaching pathway, regardless of where or who they coach.
The BF Coaching Development Framework also contains an articulation of the Coach's Journey (see diagram) which in conjunction with the other framework material will help coaches navigate the framework in accordance with their motivations and skills.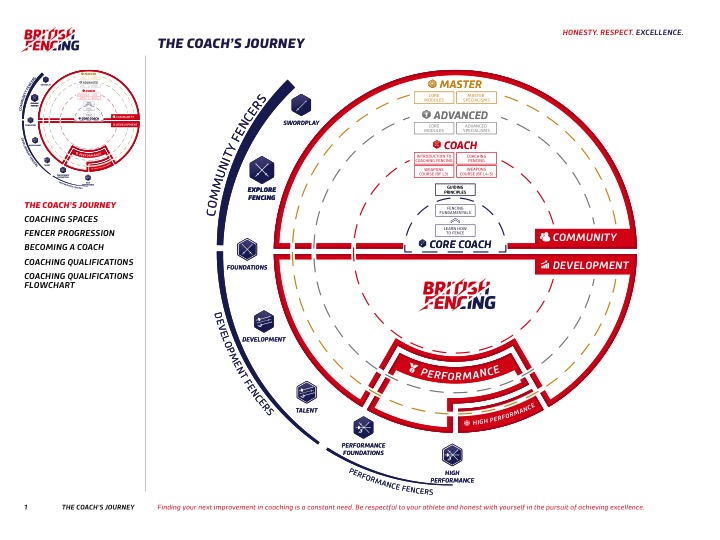 Next Steps
Work is continuing on the articulation, communication and implementation of the framework. BF's L1 & L2 courses have been re-worked, now including modernised pedagogy content, aligning to industry standards. These courses are now more appropriately called; L1 – Introduction to Coaching Fencing, and L2 – Coaching Fencing. More developments will be published in future issues of The Sword.
Commenting on the framework, Stuart Armstrong, Head of Coaching, Sport England stated, "This framework is highly innovative and challenges the traditional coach development models which are too focused on the development of coaches to support a talent development journey. It is a bold undertaking that has embraced many of the principles of the Coaching Plan for England as it looks at the interrelated nature of coaching from the perspective of participants from a range of backgrounds and contexts, which will help the coach to focus on the area they need to develop to meet the wants and needs of the fencers. I commend British Fencing for taking such a strong step in this direction and I look forward to seeing how this framework develops in the future."
BF would like to thank everyone who has participated in the development of this framework to date and in particular Sport England for their ongoing support in this area.