BF JOINS SPORTSAID FOR FUNDING EVENT AT MARSH
BF joins partner SportsAid for fundraising event at Marsh Insurance. 
BF joined charity SportsAid at an event for funding partners Marsh Insurance, showcasing the sport of fencing and taking part in a panel discussion about the work that SportsAid does supporting talented young athletes. SportsAid helps support young athletes on BF's Athlete Development Programme (ADP), with annual awards, including both the Core and Backing the Best awards, information about which can be found here.
BF CEO Georgina Usher spoke at the event, outlining the importance of work that charitable organisations like SportsAid do to support talented young athletes in amateur sport.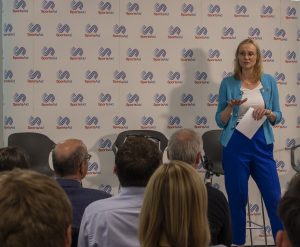 Georgina Usher said of the event, "The importance of the work that SportsAid does supporting young athletes cannot be overstated. It is a privilege to be able to support SportsAid at events like this which gives platforms to these athletes and ensures that SportsAid are able to continue doing the invaluable work that they do. For some of our athletes, it is not an exaggeration to say that a SportsAid award can be the difference between an athlete having to turn down a place in the team or having the chance to follow their dreams of representing Great Britain at the highest levels of sport."
Meanwhile, ADP Weapon Lead Rob Cawdron, and SportsAid supported athlete, Ryuki Hiyama, ran an introduction to fencing for Marsh employees, before taking part in a panel discussion alongside SportsAid CEO, Tim Lawler, and British skeleton athlete, Tabby Stoecker.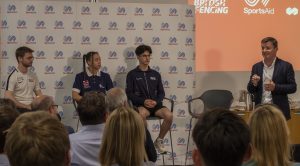 This event is one of many that SportsAid runs throughout the year to enable it to continue to support talented young athletes, including fencers.
More information about SportsAid and the work they do to support athletes can be found  by visiting their website.
Don't miss the latest news. Subscribe to our weekly summary email, The Fencing Digest, featuring the previous week's latest news and announcements. Sign up here.