BF WELCOMES POSITIVE VIEW TO EDEN CUP 2022
As the Eden Cup and London Cup 2022 weekend gets underway, BF is delighted to welcome young photographers from the Positive View Foundation, a charity that transforms lives through photography programmes for 16-25 year olds.
BF has invited several young photographers from Positive View Foundation's free ten-week photography course to join the volunteer team for the Eden and London Cup 2022 at Lee Valley Stadium in London. The Eden Cup is an FIE Junior Foil World Cup which provides an opportunity for the photographers to capture the exciting sport of fencing, adding an international event to their portfolios whilst gaining real-life experience of a sports and media environment.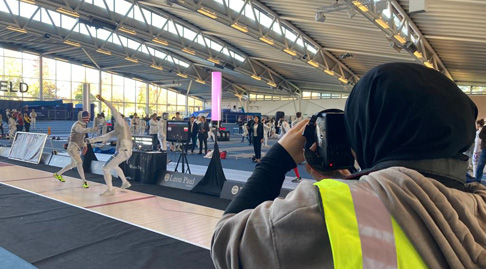 Photographer Ruqaiyah said, "An amazing opportunity to gain experience into events photography as well as an insight into the world of fencing and what it has to offer. Photographing this event challenged my skillset and developed my perspective of a new sport."
Positive View Foundation is a unique charity that supports the most disadvantaged 16–25 year-olds. The Foundation uses photography and film, plus 1 to 1 mentoring, to successfully lead extremely vulnerable young adults into further education, training and employment – and out of a vicious circle of family disintegration, gang violence, crime, drugs and mental health issues. To find out more, visit the Positive View Foundation website here.
Don't miss the latest news. Subscribe to our weekly summary email, The Fencing Digest, featuring the previous week's latest news and announcements. Sign up here.