British Fencing is pleased to announce the following referees have successfully completed their level 3 refereeing assessments;
Sophie Abrahams
David Fielding
Duncan Morrison
David and Sophie successfully passed their theory and video exams last season, whilst Duncan passed his at this year's Cadet and Junior National Championships.
The three referees are the first to qualify at this level following the successful pilot of the new assessment process, which has subsequently rolled out the practical assessments to nominated competitions  including the Manchester Cadet International, Welsh and Scottish Opens
Sophie and David passed as a result of being awarded 4's or 5's by an EFC official observer at the EFC cadet international competitions. Having already passed two practical assessments, they were allocated to referee at these EFC Competitions as part of the international cadet GBR squad referee allocation.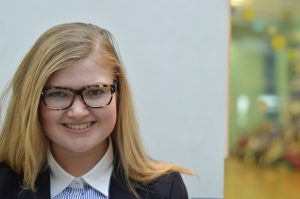 Sophie said on receiving her certificate,
"I am pleased to have achieved my level 3, which enables me to referee internationally at EFC competitions and to work towards my C license. Thank you to everyone who has supported, helped and motivated me in my refereeing, and I look forward to continuing my refereeing journey!"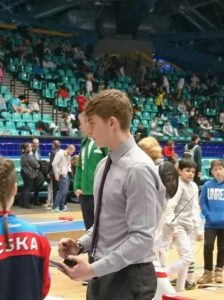 Duncan added,
"I'm really pleased to have been a part of the Level 3 programme, thank you very much Nickie Bailey for being helpful any time I needed to run a quick question past you, it is appreciated. I really look forward to undertaking Level 3 in another weapon and hopefully facing the challenge of Europe soon!"
David commented,
"I am excited to have completed the practical assessments for my level 3 refereeing qualification, which will be a foundation towards gaining an EFC C Licence in the future.
"I would like to say a massive thanks to Lorraine Rose and the other coaches at West Fife Fencing club, who believed in me to push me to develop my refereeing, to Nickie Bailey and the BF referee development team who have helped develop my skills through the new Level 3 assessment programme preparing me for this next stage in my refereeing career."
The referee working group that reviewed the Level 3 exams process and established the new systems comprised of Adrian Speakman, Julian Rose, Luke Deamer, Chris Lennon, Jen Sancroft, Patrick Jennings, Mike Selig and Peter Huggins. All have worked tirelessly to establish a new system that would best prepare referees for the demands of top domestic refereeing and the international circuit. BF would like to thank the referee working group for their continued involvement in ensuring the new Level 3 assessment process evolves into a solid working model.
Further information on the Level 3 referee assessment process can be found here