BRONZE MEDAL FOR BEAUTYMAN IN BUDAPEST EFC FOR CADET MENS EPEE
Cador Beautyman secured his first EFC medal at the opening EFC event of the 2022-23 season, in Hungary.
In a strong field of over 290 fencers from all over Europe, as well as Israel and Qatar, Cador fenced well throughout the day and took his European ranking up to 11th.
After coming through the poule with 5 wins and 1 loss, Cador was ranked 31 going into the direct elimination round and received a bye into the round of 128. He had a strong victory over Orsi (HUN) 15-8 and was in control against Charbonnet (SUI) 15-11 to then meet the number 2 seed Mykytenko (UKR) in the round of 32.
Although it was a close match Cador had a clear plan which was executed well, to apply pressure and then attack with first intention, based on his opponent's tempo, this resulted in a 15-13 victory.
Unfortunately, his last 16 match saw him drawn with compatriot GB teammate Sameer Sunder-Rajan. A 15-8 victory took Cador into the quarter-finals against Khaperskiy (ISR). Cador took the lead early with counterattacks and managed the fight for a 15-13 win.
The semi-final drew his fellow Knightsbridge Fencing Club teammate, Denys Lavrentiev (UKR), having travelled together to the competition and knowing each other's styles well. It was Lavrentiev, the eventual winner, who was having a fantastic day and defeated Cador 15-4.
Cador's first European medal was made all the more special by being able to share the podium with his clubmate Denys, a guest at ADP camps, who went on to win the competition.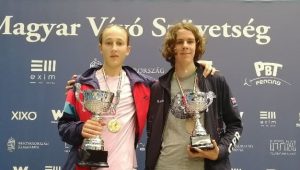 Tamas Kovacs, Knightsbridge Fencing Club said:
"This is an outstanding result in one of the toughest cadet competitions of the year. Cador made good decisions though the day while managing to stay level-headed in pressure situations. It's a great start to the season and he will continue working hard to achieve further good results."
Don't miss the latest news. Subscribe to our weekly summary email, The Fencing Digest, featuring the previous week's latest news and announcements. Sign up here.