BRONZE MEDAL FOR TSANG IN CABRIES EFC FOR CADET WOMEN'S FOIL
Amelie Tsang brings home bronze from the EFC cadet foil event in France.
Report provided by Peter Barwell:
Amelie's plan in the DEs was to take the initiative and control the fights. The L64 fight was against a defensive Italian fencer Rotella. Amelie began by provoking a reaction and hitting with parry riposte. When she went up several hits, she stayed back and forced her opponent to do the work, finishing with a score of 15-4. In the L32 Amelie faced a much more active and aggressive Italian fencer Berretta, so had to win the simultaneous situation, and apply pressure. She scored a lot of touches by provoking a counterattack then hitting with parry riposte, finishing 15-5.
In the L16 she came up against another defensive Italian Carafa. This time the plan was to push and finish or push and provoke with circular sixte riposte. After one period of fencing time, the score ended at 15-3. In the L8 against French fencer Aye, Amelie went 5-2 down, after being hit on preparation when attacking. She then changed tactics and adopted a more defensive style, went up 6-5 and tried to force her opponent to attack her. She managed to score the last few touches moving back using second intention with active defence and her determination paid off as they finished 11-9.
In the semi-final fight, her opponent Audibert was very aggressive, and Amelie got caught out doing counterattacks. She went 12-6 down and then changed tactics to use the piste defensively, and get the French fencer to finish short, or catch her out with counter parry riposte, levelling it to 12-12. Amelie missed her next few touches and lost 15-12.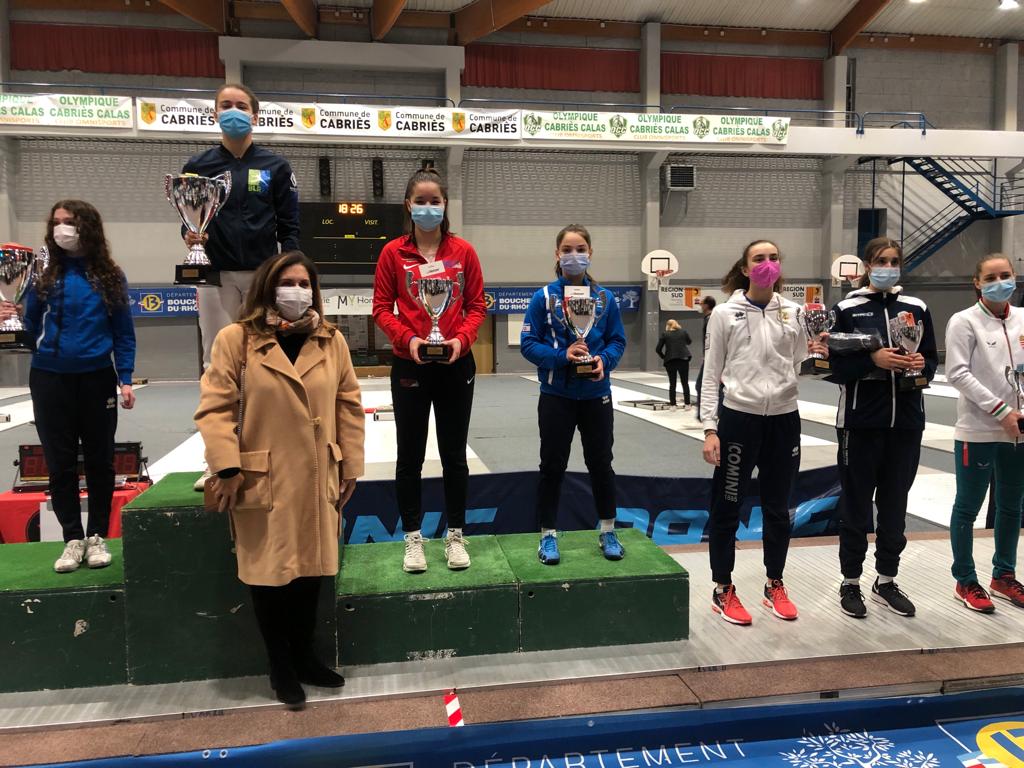 Amelie said, "Thank you! I'm very pleased with my result as although I won my previous fights against the Italians comfortably, they were definitely good fencers. My last 8 match was very tough and drained me a lot so I was pleased with the fight I did in the semi-finals.
"I had a rocky start in my poules going 4 up 2 down, not fencing very well. But after that, I managed to pull myself together and fenced very well in my knock-outs.
'In my last 8 I was 5-2 down after the first period, so I had to completely change my tactics and managed to pull it back to 7-5 after the second period. From then on it was about keeping ahead of her, and although there were some slip-ups I managed to pull through.
"By my semi-final, I was exhausted and went 12-6 down, but through patience, I managed to bring it back to 12-12. After that, I went for 50/50 hits and didn't get them."
Coach Peter Barwell said, "I was impressed with her fencing throughout the day, I thought she showed a mature level of fencing, especially in last 2 DEs, and was very determined, and didn't give up."
Don't miss the latest updates including all the latest GBR news. Subscribe to our weekly summary email, The Fencing Digest. Sign up here.