BROOKE SHINES WITH SILVER IN SERBIA
Alec Brooke claims Junior Men's Epee European Silver at the Cadet and Junior Europeans in Novi Sad.
Alec Brooke closed out the Junior (U20) individual tournament at the European Championships on Monday, February 28th, by claiming the silver medal in Novi Sad, Serbia. Brooke. Still a cadet (U17), and competing in a field of 112, Alec was looking to continue his progression after two top 16 finishes on the Junior World Cup circuit this season.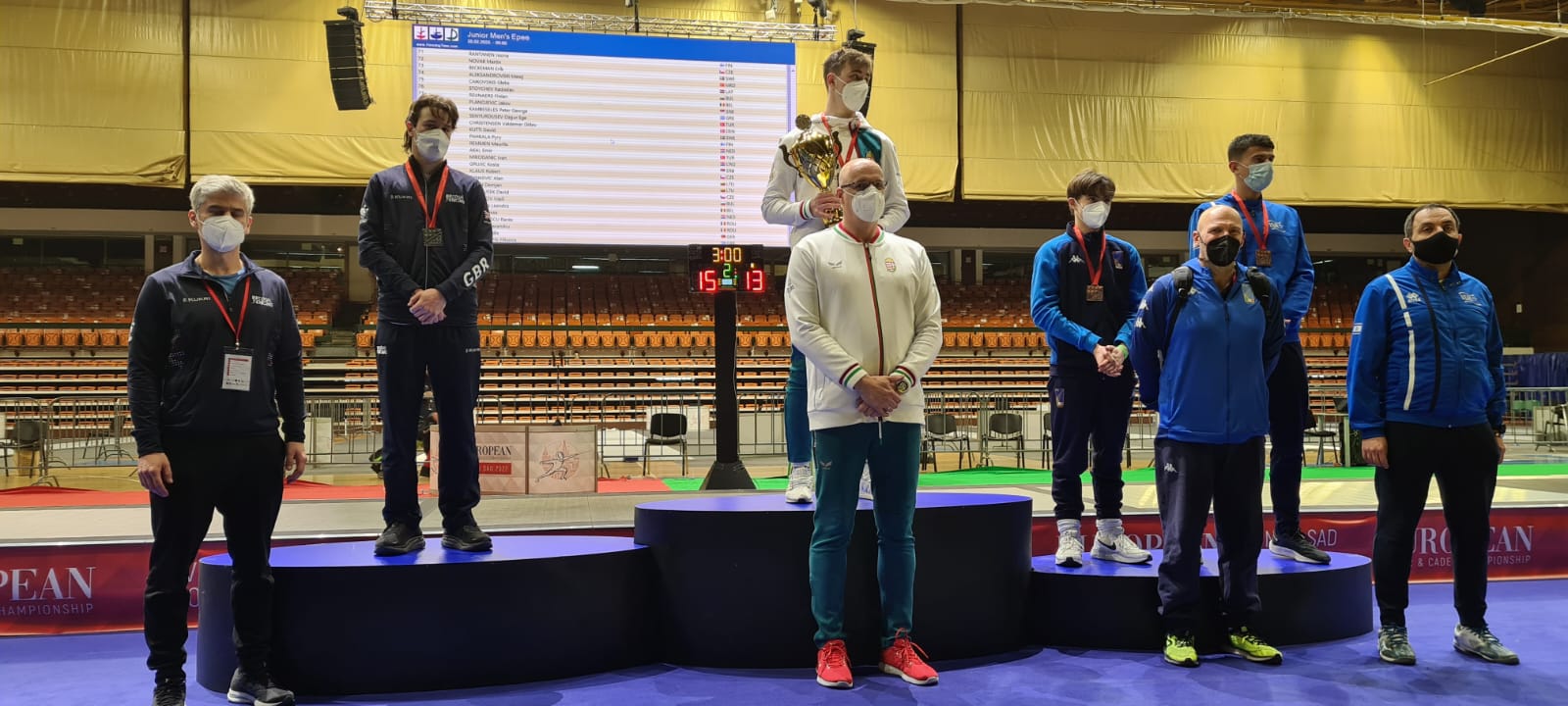 He dropped one first-round match in the poules to take a ranking of 20 into the knockout stages. A bye through the incomplete round of 128 was followed by victories over Daniels Loginovs (LAT) 15-6 and Martin Vasicek (CZE) 15-9.  He then edged two fights 15-14.  First against world number 11, Gergely Kovacs (HUN),  reversing the poule result where Gergely had beaten Alec 5- 4., followed by victory against world number 17, Kirill Gurov (RFF) to guarantee himself a medal.
His semi-final opponent was Yonatan Cohen (ISR). Both fencers initially adopted an aggressive strategy with Brooke holding a slender lead 6 -5 into the first break. Alec maintained his aggressive strategy in the second period taking better control of the distance. Scoring a series of second intention actions and long attacks from his change of direction, Brooke controlled the remainder of the match for a 15-10 victory and a place in the final.
Both finalists had met previously in Belgrade in the round of 16 at the recent Junior World Cup, with the 19-year-old Hungarian Keszthelyi coming out on top 15-13. With prior knowledge of his opponents' defensive strengths, Brooke started the final with a more cautious strategy and went into the first break tied at 4-4. Both fencers traded hits to 10 all in the second period. The significant change came when Brooke reverted to his naturally aggressive style with 30 seconds left in the second period. The Hungarian's excellent use of distance and fast ripostes led to a two-hit advantage which was enough to give him control of the match. The Hungarian went on to win, 15-13. The display of classy sporting spirit demonstrated by Keszthelyi at 14-12 up is worthy of note. He hit himself in close quarters but acknowledged that to the referee before the hit was awarded.
Alec's professional, focused approach was clear in his post-match interview. "It feels great to win the silver medal. I'm obviously happy with my performance and my result. I'm now going to focus on the Junior team event and then the Cadet events. I've got a few more years in this category and all I can do is try to improve."
These Championships represent just the third time Alec has competed at Junior level at just 16 years old.
Alec is an athlete on BF's Athlete Development Programme (ADP), funded by Sport England. You can read more about the ADP here.
Please note the event mentioned in this report took place before the Board of BF's February 28th statement about Ukraine.
Don't miss the latest news. Subscribe to our weekly summary email, The Fencing Digest, featuring the previous week's latest news and announcements. Sign up here.