Budapest Bronze for GBR Cadet Women's Foil Team
Dream teamwork secures medal on EFC Circuit.
Updated 16/11/21 to add: In accordance with BF's International reporting policy this report was kindly provided by Sian Hughes Pollitt and has been edited by BF.
GBR Cadet Women's Foilists Carolina Stutchbury (ZFW), Amelie Tsang (ZFW), Isabella Johnson (Fencers Club London) and Megan Elliott (Fighting Fit) made a strong team debut in the first nominated foil European Cadet cup of the season in Budapest.
Initially seeded 12th out of 46 teams, GBR met Russia on a bye in the T32. By the end of the first two periods, GBR were 6-10 down when Johnson stormed in with a disciplined and ferocious attack on the scoresheet, finishing her bout 9-1, pulling GBR into a 15-11 lead. A fearless Tsang conceded four hits to trade off against her five, extending the margin to 20-15. With sublime control, Stutchbury widened the gap further, ensuring GBR concluded the fifth out of nine bouts with a 25-17 score, extending to an eventual 45-31 win.
A change to team order and the women foilists faced the Netherlands in the T16. Down 3-5 at the first, Johnson turned the tides once again, persevering to 7-1. Stutchbury's 5-0 was followed by Tsang with a strong 9-5. From there GBR had a clear and sustainable lead, and with Tsang as an unflinching anchor, they won 45-24.
Into the quarter-finals, and GBR met Israel in the most tactically exacting match. In a test of maturity and patience, the GBR women went down 3-4, then 8-10, then 9-12, then 14-19. Mid-match, Johnson came on undaunted to narrow Israel's lead to 17-20. Tsang, sticking to the plan, did a high-value trade-off, conceding six hits but winning seven. Johnson returned to equalise, then Stutchbury carefully played out to concede nothing and score two. Tsang finished in a blaze of glory 12-4, affording GBR a 42-32 win. "It was an intelligent strategy; the girls made Israel press and attack so we could rely on our opponents making mistakes without forcing the action", said coach Dominique Szokolovics.
Advancing to the finals was not to be. Losing to USA in the semis, GBR met Turkey in the bronze play-off. Again starting 2-5 down, Johnson owned the piste once more, making her 8-2 bout score look like a breeze. Tides turned, the GBR women foilists skilfully steamed on with their lead and, with a 44-24 end score, clinched bronze.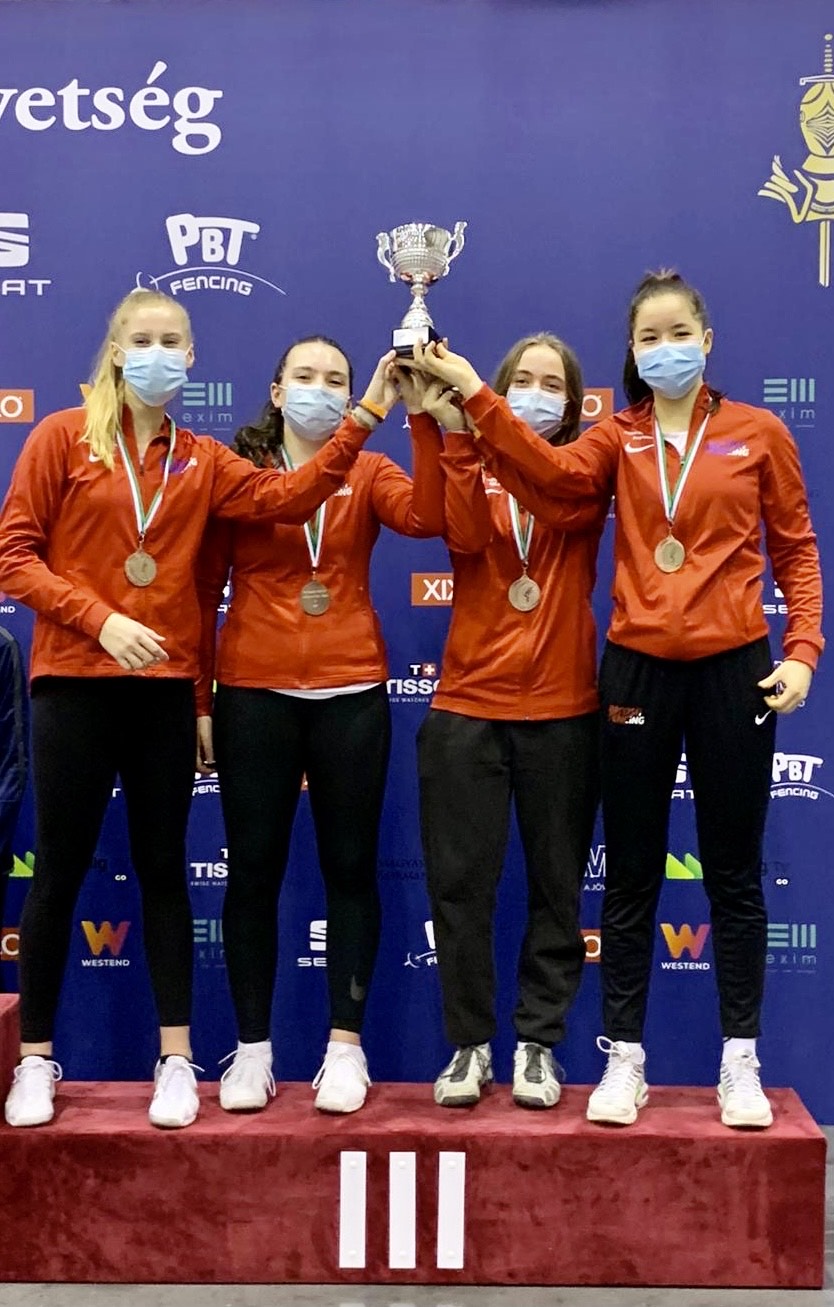 Szokolovics also saluted the GBR parents and supporters who gave the team and coaches space to do their job. With the event completed at about 10pm, the women foilists had their individual starting early the next morning. "It was a choice between prioritising team medals or individual ones. We were determined to get a guaranteed podium for our country because our long game is rolling that out to the European Championships. These girls have the ability to go all the way. We are going to keep building on that".
The team are all on the British Fencing Athlete Development Programme, funded by Sport England. More information about ADP camps, programmes and updates can be found here.
Updated 16/11/21 to add: In accordance with BF's International reporting policy this report was kindly provided by Sian Hughes Pollitt and has been edited by BF.
Don't miss the latest news. Subscribe to our weekly summary email, The Fencing Digest, featuring the previous week's latest news and announcements. Sign up here.