BUDAPEST MEN'S FOIL BRONZE FOR GBR
Sebastian Beardmore Esteban, Callum Penman, David Sosnov and Alastair Thompson took Great Britain's first team to the Bronze medal in the Men's Team Foil at the EFC Circuit event in Budapest at the weekend.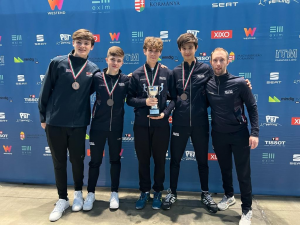 Ranked ninth in a massive field of fifty teams, the team beat GBR 4 45-26. They went on to defeat Turkey 2 45-18 to set up a match against eighth seeds USA 2. Victory 45-34 meant a place in the quarterfinals, where they continued to impress by beating top seeds Poland 45-37.
They lost out 45-31 in the semi-finals to USA 1 before going on to beat Poland 2 45-32 to secure the Bronze medal. USA 1 went on to claim the title, beating USA 3 in the final.
Leading the team, Athlete Development Programme (ADP) Coach Keith Cook said,
"This was a really positive performance from the Cadet Men's Foil Team in finishing third in an extremely strong international field. With a team consisting of David Sosnov, Callum Penman, Sebastian Beardmore Esteban and Alastair Thompson, this was the first time they had fenced together as a team and the chemistry amongst the group was instant. They were absolutely professional in their approach – engaged and focused in the team meetings, on point in their warm ups, accountable and supportive of each other during the matches – and this approach and attitude was reflected in their performances. Congratulations to all the fencers and their coaches."
Full results are available here.
Don't miss the latest news. Subscribe to our weekly summary email, The Fencing Digest, featuring the previous week's latest news and announcements. Sign up here.