CADET WOMEN'S SABRE TEAM STRIKE GOLD IN SOFIA
The GBR team took first place at the Team Cadet Women's Sabre EFC event in Bulgaria.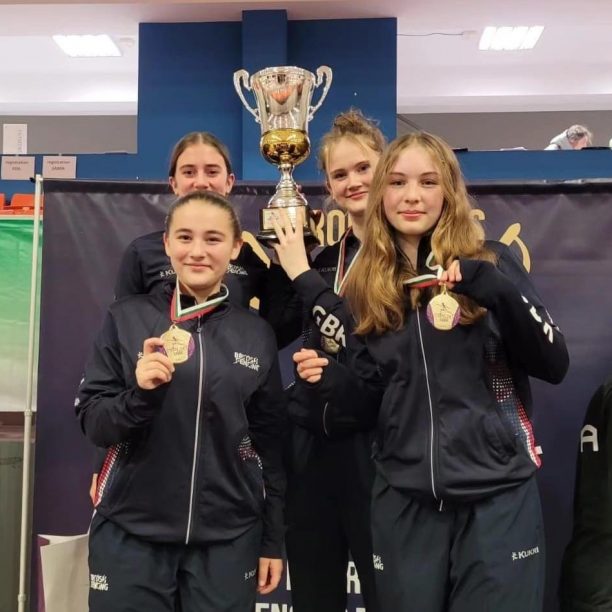 The GBR team of Keira Donnelly-Sallows, Hui Xin Sezille, Clara Shimmin & Maya Sutton took the gold medal at the EFC Cadet Sabre competition in Sofia, Bulgaria, after beating Romania in the final.
"Today was an amazing experience. We worked really well as a team, it was a brilliant atmosphere with all the support we had," said Sezille. "Lots of people stayed for the semi-final and final. It really helped and made the adrenaline flow faster."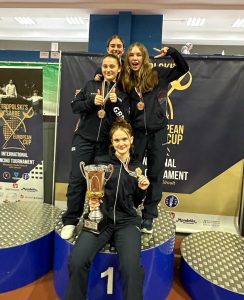 Keira Donnelly-Sallows added: "We were super happy with our result. We really fenced well as a team against some tough competitors. We stayed focused and listened to our coaching support team, Alex and David."
"I am very grateful for the support from teammates, parents and ADP coaches. They really made a difference in the later rounds."
Donnelly-Sallows was the highest placed GBR fencer in the individual competition, finishing 14th of 208 athletes.
The team was supported in the field by ADP coaches Alex Bella & David Sach.
With thanks to Fran Whalley
---
Don't miss the latest news. Subscribe to our weekly summary email, The Fencing Digest, featuring the previous week's latest news and announcements. Sign up here.