GBR CADET CAROLINA STUTCHBURY BREAKS RANKS BEAUTIFULLY TO WIN JUNIOR WOMEN'S FOIL WORLD BRONZE
Sixteen year-old GBR Women's Foilist, Carolina Stutchbury launched a stunning display of tactics to land the bronze medal on day four of the Junior & Cadet World Championships in Dubai in the Junior Women's Foil competition, adding the accolade to the Junior European title she claimed only a few weeks ago.
With mesmerising focus and control, Stutchbury blazed a trail through poules, winning all her six fights, conceding just three hits across the prelims. Securing her top seed spot for the tableau, Stutchbury earned a bye through the round of 128.
Then it was straight down to business. Meeting Junior Women's world number 13, Maia Weintraub (USA) in the tableau of 64, Stutchbury demonstrated hallmark connectivity to the rhythm of the bout, staying ahead of pace until she could draw away to win 15-11. In the tableau of 32, against Miriam Schreiber (SWE), Stutchbury was forced once again into pitting her wits against her Scandinavian opponent, with scores keeping level until a 15-12 victory, in Stutchbury's favour, could be delivered.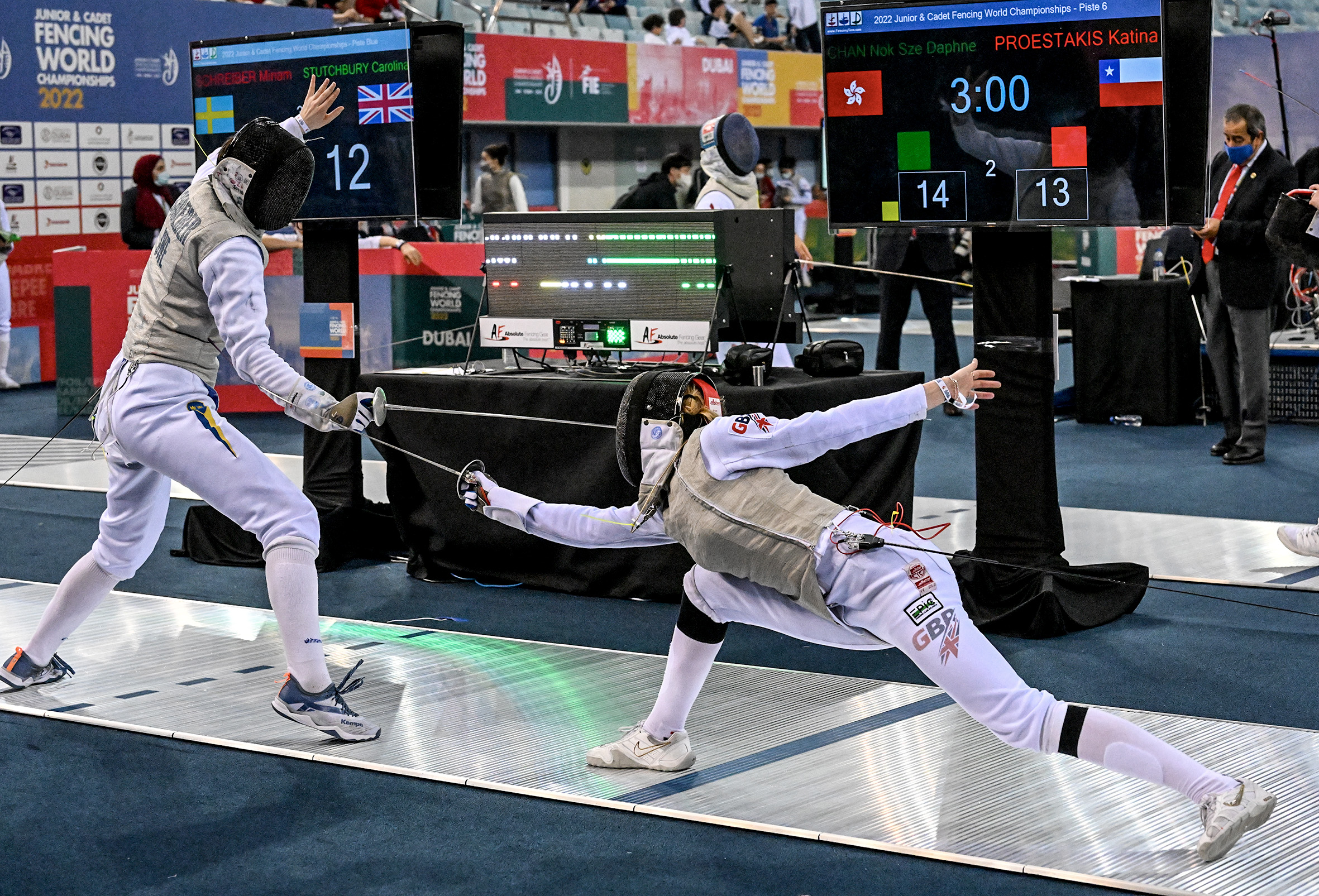 Call room formalities completed, Stutchbury's last 16 match was against Chan Nok Sze Daphne (HKG) – herself a Junior Asian Championship bronze medalist. Stutchbury exacted a 15-10 victory before facing Hong Sein (KOR) in the quarterfinals who she dispatched 15-6. Onto the podium stages, and Stutchbury's semi-final opponent was left-handed Takeyama Yuzuha (JPN) who had herself beaten medal favourite Jessica Guo (CAN) in the quarterfinals.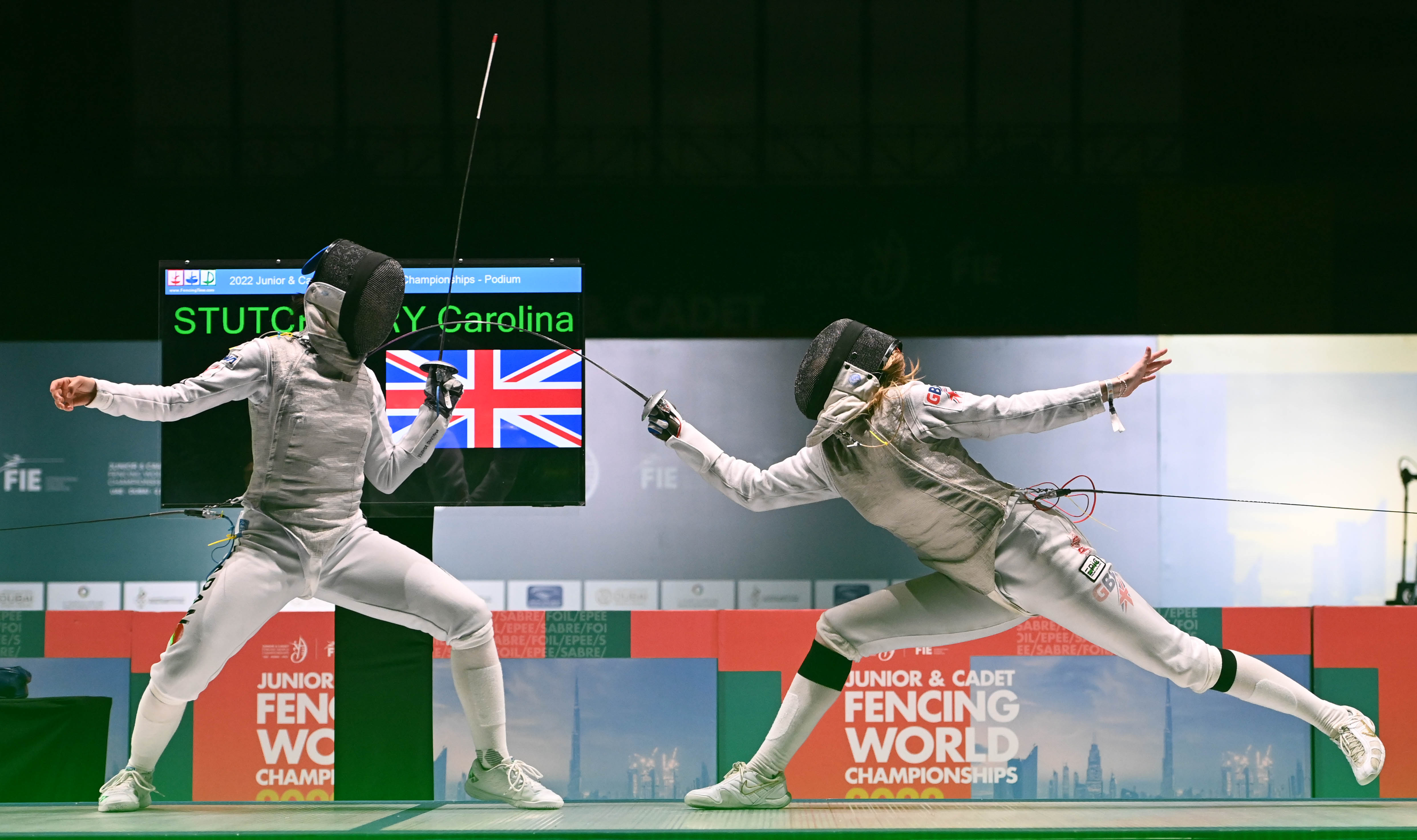 The first hit took nearly a minute to arrive and it was a second intention short attack, parry riposte for the Japanese fencer – an early indicator of the quality we were to expect. But Stutchbury, working on her defensive reactive game, edged to a 4-2 lead before landing a nice slow long attack to go 5-2 up.
Stutchbury went into the second period 7-5 in the lead. At this juncture, Takeyama not only slowed the fight down, but also opened the distance. It worked too, as she was better able to set up her attacks to trail by just 7-8. Moreover, Stutchbury had unsuccessfully employed both of her video appeals.
With intensity and directness increasing from both competitors, the match assumed an ever-gaining pace until Takeyama asserted a one-point margin lead, making it 11-10. Again the hypnotic equality of tactics and technique resulted in a 12-12 scoreboard, only for the Japanese fencer to open the distance again, going 14-12 in front. In a dizzyingly determined display, Stutchbury stole back the difference with two sharp attacks to 14-14, and for everything to rest upon the deciding point.
After patiently waiting for the right time, Stutchbury missed and Takeyama moved onto the final with a counter-attack and a 15-14 end score.
Stutchbury expressed her delight and gratitude on her achievement, calling it a "dream come true". She said "I feel absolutely amazing. I had a really hard first DE against Maia (Weintraub USA) but – although tough – got me to wake up. It was good to fence and I enjoyed it."
Coming down from the lofty heights of the Junior podium, she focussed on what next, saying "Cadets are tomorrow. So I have to go and eat some food, get some sleep and hopefully be ready."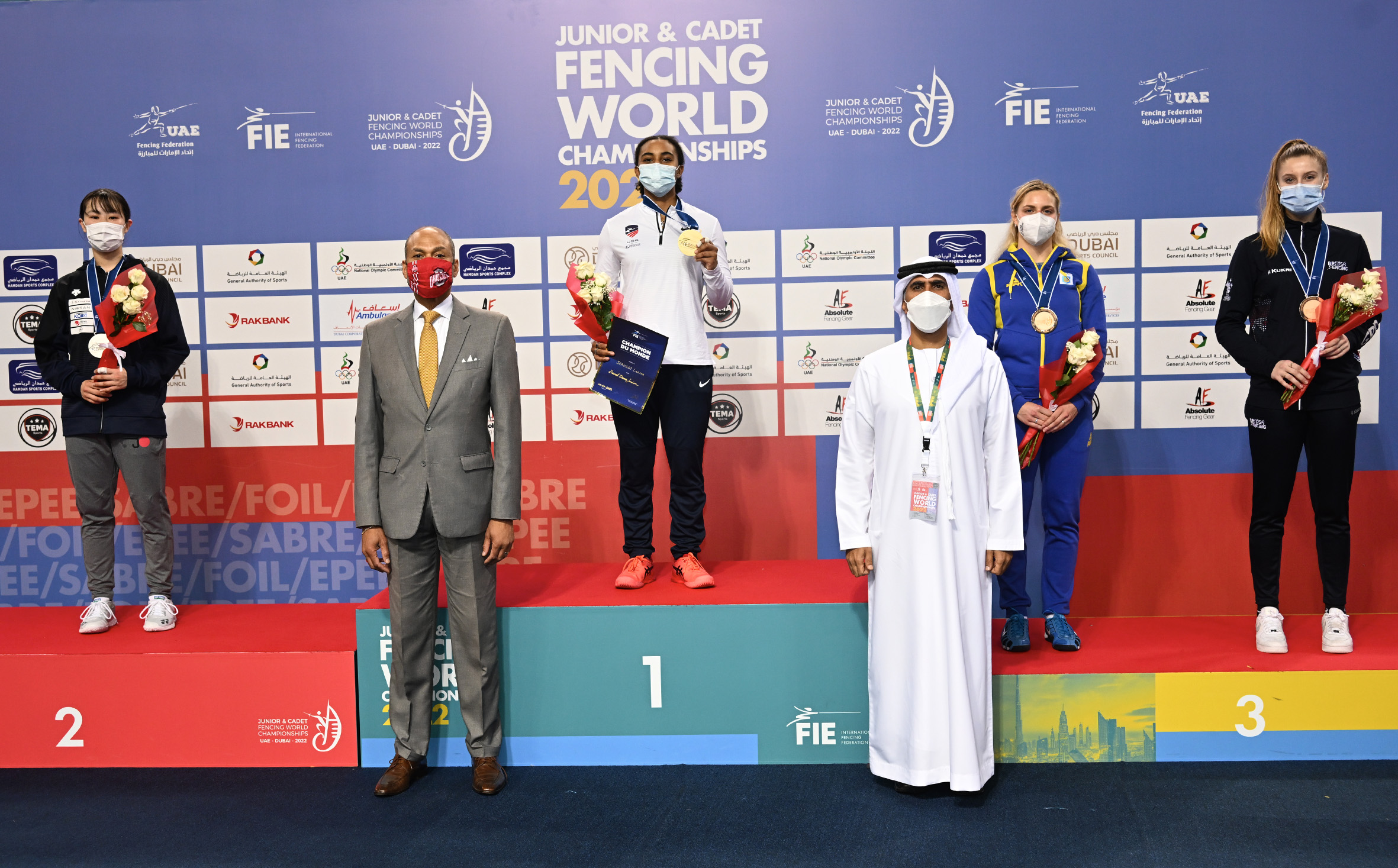 Lauren Scruggs (USA) took the Junior Women's Foil World title for the second time in Dubai beating Takyama Yuzuha (JPN) 15-3. Kateryna Budenko (UKR) shared the bronze medal position. Stutchbury ended her superb day by paying tribute to the support team around her. "I'd like to thank my coach, Dimitri Romankov, my parents, all at British Fencing, everyone watching, all the people I train with at SCAD (Savannah College of Art & Design) and Epic Fencing Club in Atlanta."
Don't miss the latest news. Subscribe to our weekly summary email, The Fencing Digest, featuring the previous week's latest news and announcements. Sign up here.