Celebrating Black History Month – Curtis Miller
BF continues our celebration of Black History Month with GB Sabre fencer Curtis Miller.
October is Black History Month in the UK, an annual month that celebrates and reflects on Black history, arts and culture, as well as recognising the achievements and roles of Black people in shaping history.
To celebrate Black History Month, throughout October we are asking some of the members of our community to tell us more about themselves and their lives in fencing, as well as what the month means to them and how Black history has shaped their lives.
Curtis, how are you involved in fencing? What does this mean you do?
I am a saber fencer for GB, it means a lot to me to be able to represent my country at the highest level.
How did you get started in fencing?
I started when I was 10, I joined Camden Fencing Club just for fun but after realising the potential, it became a future career.
What three words would you use to describe your involvement in fencing?
Relentless, Passionate, Togetherness.
What is your favourite thing about fencing?
Being able to compete against the world's best.
Can you tell us the most unusual thing you've done as part of your fencing life?
Travelling to countries I never would have thought to travel to, like Russia and Korea.
What is your proudest fencing achievement?
Winning a bronze medal at the Junior World Cup in France.
Where were you born and brought up?
I was born in the early 90s and raised in north London but really grew up in north-west London.
What does Black History Month mean to you?
It means a lot to celebrate all black people and also the historical people who worked hard in making a change for a more positive future. It's always good to honour these people.
How has Black History shaped your life?
Black history has helped me grow up mentally and has really opened my eyes to a lot more than I thought was real. Certain situations have built me into a stronger and wiser person.
What three words would you use to describe Black History Month?
Powerful, Informative, Insightful.
Who is your biggest inspiration? / Are there any influential Black role models in your life?
Thierry Henry in the sporting world is an inspiration for me. In terms of mentality and the approach to sport and life in general he is someone I admire.
Who is someone making Black History today?
To me every black person is making black history in their own way, whether it be me in fencing or another man or woman in business or fine arts, music… every black person is writing their part into black history.
If people could watch, read or listen to one thing this month to understand more about Black History what would you suggest, and why?
There are many things to read and watch about black history. Personally, I like to watch films so a few I would recommend are, Fruitvale Station, Hidden Figures, and Malcom X.
Complete the sentence…"When I'm not involved with fencing I am…"
"…Spending time with family and friends or I get into my creative side and work on my photography or paint rooms in mine and other peoples homes."
What would it surprise people to know about you?
N/A I am an open book already!
More: read about Curtis' interest in photography and his contribution to the growth of the British Fencing Image of the Year competition.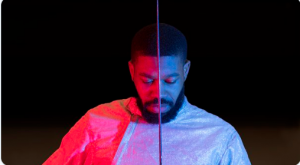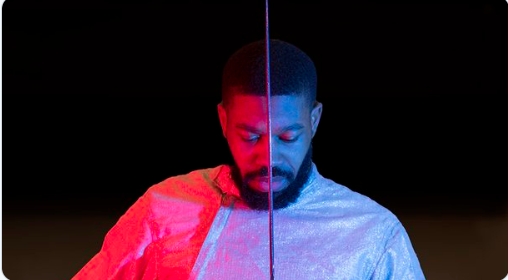 Image by Graham Hales