CHON BURI WORLD CUP PARA FENCING REPORT
Great Britain's Para Fencers secured a record haul of medals at the Chon Buri Wheelchair Fencing World Cup in Thailand last week, topping the medal table with an impressive tally of seven golds and two Bronzes – including their first and second ever team event golds.
HISTORIC HAT TRICK FOR GILLIVER:
Tokyo 2020 Paralympic Epee Champion Piers Gilliver picked up from where he left off in Japan last year, winning all three individual golds on offer in Men's Category A.
Returning to the individual foil event at a World Cup for the first time since 2017, Gilliver soon reminded his opponents of the threat he poses. Ranked 61st going into the competition he won all but one of his poule fights to rank 7th going into the direct elimination. After receiving a bye through to the last 32, Piers moved through the rounds with ease – defeating World No 1 and Tokyo Paralympic Silver Medallist Richard Osvath from Hungary 15-8 in the semi-finals before beating Poland's World No 5 Michal Nalewajek 15-11 in the final to secure his first ever World Cup gold in Foil.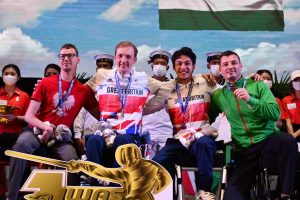 Further success followed for Piers on day two in the Epee where he lived up to his deserved status as the man to beat. Conceding just seven hits on his way to a clean sweep in the poule, he topped the standings going into the elimination rounds. A characteristically dominant performance saw Gilliver beat World No 3 Emmanuelle Lambertini 15-5 in the final, having never conceded more than six hits to an opponent on route to his second gold.
He wasn't done there though… day three saw Piers compete in the sabre – where he completed a historic hat trick of individual golds by beating World No 2 Richard Osvath of Hungary 15-11.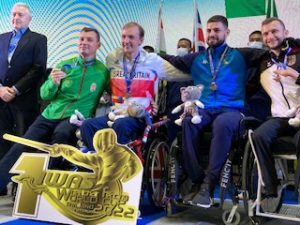 DAZZLING DOUBLE FOR COUTYA:
Making his return to the World Cup circuit for the first time since Tokyo, Great Britain's Dimitri Coutya soon demonstrated all the skill that saw him secure four Paralympic medals last summer.
Much like Gilliver, Dimitri produced a flawless poule performance on day one in the Foil – dropping just three hits! And his dominance continued as the day went on. 15-0, 15-1 and 15-5 victories saw him through to the final where he beat World No 2 Maxime Valet of France 15-4 to secure his first World Cup gold of the week.
Coutya kicked off in similar fashion in the Epee on day two, blitzing through his poule once again – this time giving up just two hits along the way. Having sailed through the early rounds, Dimitri came up against the improving Michal Dabrowski of Poland in the semi-finals. After establishing an early lead, Coutya had to see off a spirited comeback from the Polish World No 15 to secure a 15-13 win and a spot in the final against France's Marcus Cratere. A tense start saw the pair trade points, with GB's Coutya just edging it before a change in gear saw him pull away – securing a second successive individual gold with a 15-7 victory.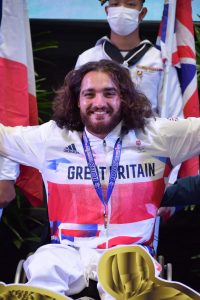 BRILLIANT BRONZES FOR LAM-WATSON AND COLLIS:
There were also individual medals for GB's Oliver Lam-Watson and Gemma Collis who continued their promising start to the Paris cycle.
Oliver Lam-Watson secured his first ever World Cup medal in Foil, adding to the Epee Bronze he won in Pisa back in November. A dazzling poule performance saw Lam-Watson top the standings after the poule stage, but his impressive performance didn't end there. A 15-12 victory over World No 2 Emmanuelle Lambertini in the quarter-finals followed. Oliver couldn't quite overcome Poland's Michal Nalewajek in the semi-finals, but another World Cup bronze to add to his collection suggests he's only moving upwards.
Meanwhile, Gemma Collis medalled at a third successive World Cup – securing a bronze of her own in the Women's Category A Sabre. Going unbeaten in the poule for just the second time in sabre, Collis was seeded second going into the direct elimination. Confident victories in the earlier rounds saw her through to the semi-finals, where she would take on Paralympic silver medallist Nino Tibiashvili of Georgia – who she beat at the start of the day in the poule. Unable to quite repeat that earlier success, Gemma fell to the Georgian 15-11 but can take confidence from another assured showing.
There were other notable performances from GB's Justine Moore and Emily Holder. Moore – who secured her first World Cup medal in Pisa last November – impressed in both the Epee and Foil to finish a credible 5th in both weapons. Meanwhile, Emily Holder showed why she's one to watch for the future – earning a second successive direct elimination appearance in just her second ever World Cup.
TOP OF THE TEAMS:
The success didn't stop with the individual events though… yes there were a further two golds in the Team Events for Great Britain.
GB's triumphant Tokyo trio of Dimitri Coutya, Oliver Lam-Watson and Piers Gilliver – who claimed Team Foil Silver and Team Epee Bronze at last year's Paralympics – took on a less familiar challenge with the Men's Sabre Team event, but soon reminded the rest of the field of how tough they are to beat. Knocking out World No 1 side Italy on their way to the final, Coutya, Lam-Watson and Gilliver secured Great Britain's first ever World Cup Team Gold with a 45-40 victory over France.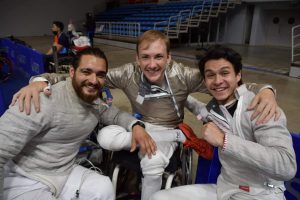 After a quick turnaround, Coutya and Gilliver returned to the piste for one final time that afternoon – this time alongside GB's Justine Moore and Gemma Collis in the Mixed Epee Team event.
Competing for the first time in the format which made it's World Cup debut earlier this year, GB's quartet found themselves against South Korea in the semi-final. Coutya and Gilliver were up first and second after a coin toss determined that the women would finish the match. After setting a blistering early pace, the boys handed over to the girls 10-2 up. Justine Moore maintained the pressure, with an impressive 5-3 win to ensure GB had a commanding lead going into the fourth and final bout of the team match. Facing Kwon, who had knocked her out of the individual Epee two days prior, Collis was out for revenge – dropping just one hit on the way to sealing a 20-6 win for GB.
An equally impressive team performance – which saw all four GB fencers win their individual bouts – followed in the final. GB's quartet of Coutya, Gilliver, Moore and Collis completed a 20-10 victory over Italy, earning Great Britain's second ever Team Event World Cup Gold in the process. The success also capped off a unbeaten weekend for Gilliver and Coutya – who secured gold in every event they competed in.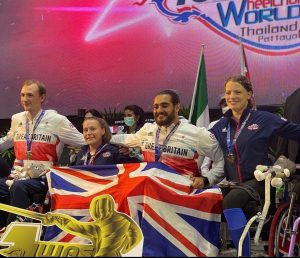 A huge congratulations to all of the fencers, and a good luck to them for their next World Cup in Warsaw which will take place from the 6th-10th July.
FULL GB RESULTS FROM THE CHON BURI WHEELCHAIR FENCING WORLD CUP:
CATEGORY A MEN'S FOIL
Piers Gilliver – GOLD
Oliver Lam-Watson – BRONZE
CATEGORY B MEN'S FOIL
Dimitri Coutya – GOLD
CATEGORY A WOMEN'S FOIL
Emily Holder – 21st
CATEGORY B WOMEN'S FOIL
Justine Moore – 5th
CATEGORY A MEN'S EPEE
Piers Gilliver – GOLD
Oliver Lam-Watson – 16th
CATEGORY B MEN'S EPEE
Dimitri Coutya – GOLD
CATEGORY A WOMEN'S EPEE
Gemma Collis – 8th
Emily Holder – 18th
CATEGORY B WOMEN'S EPEE
Justine Moore – 5th
CATEGORY A MEN'S SABRE
Piers Gilliver – GOLD
CATEGORY A WOMEN'S SABRE
Gemma Collis – BRONZE
MEN'S SABRE TEAM
Piers Gilliver, Dimitri Coutya and Oliver Lam-Watson – GOLD
MIXED EPEE TEAM
Justine Moore, Gemma Collis, Dimitri Coutya & Piers Gilliver – GOLD
Don't miss the latest news. Subscribe to our weekly summary email, The Fencing Digest, featuring the previous week's latest news and announcements. Sign up here.