COMMUNITY SPORT AND RECREATION AWARDS 2024 OPEN FOR NOMINATIONS


Entries for the Sport and Recreation Alliance's Community Sport and Recreation Awards 2024 are now open.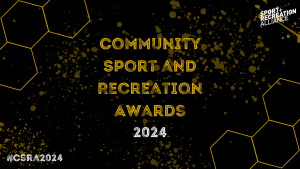 The annual celebration of grassroots clubs, organisations, and inspirational individuals will be taking place in early 2024, at a venue to be confirmed, with a £1000 prize presented to each of the winners. 
There are eight different award categories:  Community Club of the Year, Diversity and Inclusion Award, Going Green Award, Inspiration of the Year, Mental Health and Wellbeing Award, Resilience in Adversity Award, Volunteer of the Year, and the Youth Development Award. 
British Fencing is a full member of the Sport and Recreation Alliance, and the awards represent a fantastic opportunity for grassroots organisations to gain national recognition and a financial boost. 
You can submit an entry for the Community Sport and Recreation Awards 2024 on this link: https://www.sportandrecreation.org.uk/pages/awards