DEARY CLAIMS HISTORIC EUROPEAN GAMES BRONZE
Twenty-five-year-old Will Deary claimed Team GB's first ever men's sabre medal on the first day of competition at the European Games in Kraków, Poland, on Sunday.
Ranked eighteenth for the event, Deary began the day in a poule with the number one seed Sandro Bazadze (GEO), who had defended his European Championship title the week before. Despite losing to Bazadze, Deary won his remaining fights, entering the direct elimination stage as tenth seed.
A bye was followed by victories over Cidu (ROU) 15-8 and Bonah (GER) 15-10. He then defeated the world number three and three-time Olympic medallist Luigi Samele (ITA) 15-14 in the quarter-finals to secure a place in the semi-finals and a guaranteed medal. The fight against Samele was particularly impressive as Deary came from behind to win the fight.
In the semi-finals, Deary displayed great variety off the line, combining all-out attack with measured defence and led 8-7 at the break. His Polish opponent, Krzysztof Kaczkowski, drew level at 9-9 and 12-12 only for Deary to edge ahead 14-13. A failed flunge attack from Deary allowed the Pole to level yet again and then take the fight with a tight decision in the middle.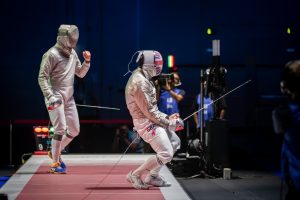 Recent changes mean that the individual events at the European Games no longer carry Olympic qualifying points for Paris 2024. However, that journey is clearly at the front of Deary's mind. Speaking after the medal ceremony, he said,
"I was heartbroken in the last match to lose by one hit, but while it's pretty hard to handle, it's been a good day and I've been fencing well. So we can look at the positives obviously, but yeah, the last one hurts a little.
"To qualify for the Paris Games, that's the first and foremost thing. It's really complicated qualifying. It's a long, whole-season process. It's not like you go to one competition and you know you've qualified. You don't know until the very last competition of the season. This result proves that we can get there. We've just got to keep the consistency up and I'll find out probably in April. Paris is the ambition but I can't rush this yet.
"In one month we've got the World Championships in Milan. There are a lot of qualification points available, and I hope I can pull off another result like this."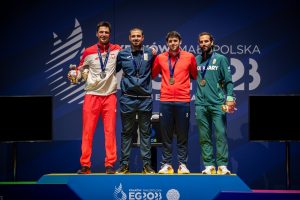 Deary's coach, Jon Salfield, added,
"I think he showed he is world class today, and I believe he'll go on and qualify for the Paris Olympic Games."
British Fencing's Olympic Team Manager, Johnny Davis, added,
"We were expecting this to happen at some stage – it was just a matter of when. And I think for the team it's a great opening. It sets the standard and gives belief to everyone else that we can go off and do this."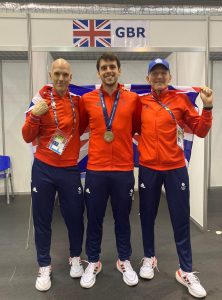 Sandro Bazadze (GEO) went on to take the title, beating Kaczkowski 15-13 in the final, while Deary shared the Bronze medal position with triple Olympic Champion Aron Szilagyi (HUN). The full results are available here.
Don't miss the latest news. Subscribe to our weekly summary email, The Fencing Digest, featuring the previous week's latest news and announcements. Sign up here.