EVANS ACHIEVES WORLD QUARTERFINALS FINISH 
Cadet Men's Foilist Cameron Evans bags Britain's best result so far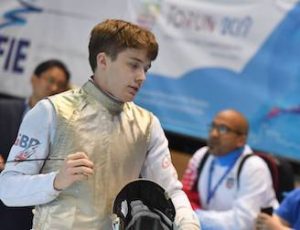 (Photo: Augusto Bizzi)
Sixteen year old Athlete Development Programme athlete, Cameron Evans showed great form yesterday at the Cadet Men's Foil World Championships in Toruń, Poland to finish in sixth place.
He started the day with four victories from five poule matches which gave him a bye through the incomplete round of 128.  Ranked 33rd Evans next faced the 32nd seed, Daniil Tkach from Ukraine.  Evans started strongly, establishing a lead that he never gave up and went on to win 15-10.
His round of 32 match was against American Jun Heng Liao who had progressed through the poules as the number 1 seed.  It was a tremendous battle as the two fencers went after each other.  It remained instense and close throughout but at 14-14, Evans timed a counter-attack successfully to make the round of 16.
Zhang Weisong of China was his next opponent, who despite dropping two fights in the first round improved through the event and impressed in taking out number 16 seed Gergely Toth of Hungary in the previous round.  Evans variety at the beginning of the match meant that he established an early lead but Zhang fought back with a combination of strong attacks but Evans was able to close out the fight 15-11, to make the quartfinals.
Another Chinese fencer, Xu Jie, stood in his way and he proved too much as he carefully built a lead, going on to win 15-8.
Speaking about his results, Evans said, "I just came out and said I was going to fence my best today, and thanks to my preparation and guidance from my coaches, Anya Katkova, Renal Ganeev, and Ziemek Wojciechowski, I was able to achieve that.  Thanks also to British Fencing."
Speaking after the event, Lead Foil Coach, Chris Galesloot said, "Cameron fenced with great discipline from the start of the day.  His confidence was high and grew with each elimination fight.  He showed a great variety of actions, very good movement, workmanship and great timing today.  Cameron and his coach Anna Katkova have been working very hard and this result is proof of their dedication.  This is a great end to a strong Cadet season for Cameron and I am very excited about how he will further develop as a Junior."
Full results are available here.