Fencing clubs across the UK have been celebrating Volunteers Week 2019. Volunteers offer a wealth of experience, assistance and enthusiasm and Volunteers Week celebrates their input into the sport.
If you are interested in volunteering head to the British Fencing Volunteer Zone.
Spotlight on: Sharon Brosnan and Finchley Foil
"For more than 16 years Sharon has been a mainstay of Finchley Foil, starting off as a supportive parent then becoming the wonderful secretary and organiser that any club could hope to have.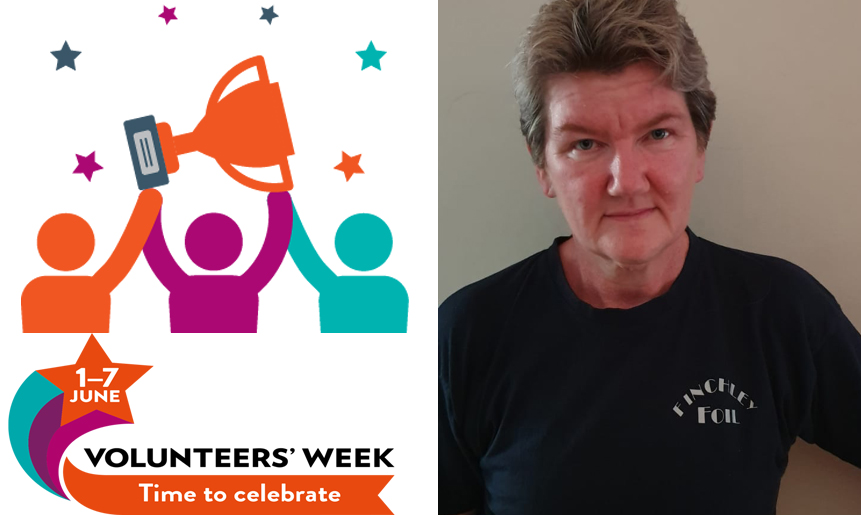 She gives up her Saturdays to help run the club with great patience and good humour, using her experience as an early years teacher to the benefit of all. And many competitions over the years have also enjoyed Sharon's refreshment stands. She just gets on with whatever needs doing – a fantastic and dedicated volunteer." From all at Finchley Foil.
Spotlight on: Margie Mascolino and Truro Fencing Club
"Margie Mascolino is the Club Secretary at Truro Fencing Club, and has been in the role for a number of years now. Margie is originally from the USA, but married a Cornishman, Richard Chart, and they moved back to Cornwall more than a decade ago with their daughters Yvonne and Maria. Yvonne already fenced foil in the USA, and joined Truro Fencing Club, along with her sister Maria who took up sabre. Both have gone on to become successful international fencers.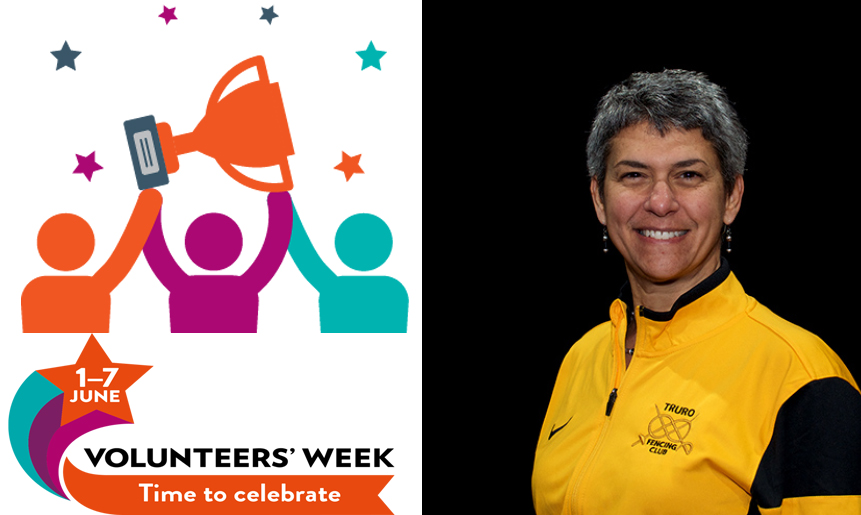 Margie quickly became part of the team at Truro Fencing Club, initially as a club fencer, then working on organising and managing cadet trips for the club, and later for British Fencing as cadet sabre weapon manager.
For some years now, Margie has fulfilled the role of club secretary, with responsibilities ranging from helping to promote events on social media, working as part of the management team on day-to-day club organisation, communicating with members, helping with financial management and planning, and planning and organising international trips.
As the club has grown into one of the most successful in the UK, the role has become more and more wide-ranging, and is one of the most demanding volunteer roles around!" – From Truro Fencing Club
A Message of Thanks: Radcliffe Swords
"To celebrate Volunteers Week Radcliffe Sword Club would like to say a very big thank you to the referees and crew who helped us to run the first John Holt Novice Open on Saturday 1st June.
Due to their hard work laying pistes, manning check-in, armoury and DT the event ran smoothly and was a good first experience of competitive fencing for some visitors. Special thanks go to our tireless group of referees who kept everything running on the floor and helped to maintain the friendly and welcoming atmosphere.
We look forward to confirming the date for next year's event and hope that all those who competed enjoyed the day and will encourage their clubmates to join us next time.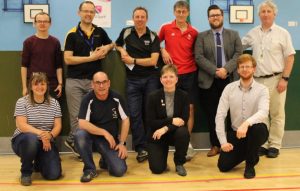 Our volunteers were: (front, left to right) Helen Solly; Ian Toplis (armourer); Jenna Griffiths; Stephen Conroy and (back, left to right) Ali Delboyer; David Beck; Chris Wood (DT); Paul Sibert; Sean Grundy; Ev Van Gemeren Thanks also to Ian Scott for arranging the live Facebook feed of the action, CWO Barbara Whitcombe and Jamie Sala for refereeing the morning session!"
Young Leaders:  Paul Davis Fencing Academy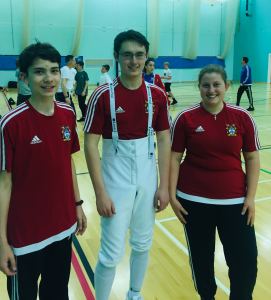 Academy Leadership Scheme – "Volunteers are the pillars of our community"
"The Paul Davis Fencing Academy has a strong volunteer structure through a Leadership Scheme for 13-17 year olds. The Scheme has 10 'Leaders' who annually undertake essential roles in the Academy Sessions in return for on the ground business experience.
The Leader's give up an hour a week of their free time, giving back to their community in roles that include; running the Hertfordshire School Fencing League, Coach support in setting up and packing away sessions, and engaging with fencers of all ages and experience. For example, one of their Leaders Daniel started fencing with the Academy at 9 years old now is preparing for his A Levels. Having been a Leader for two years, we asked him, why he volunteers for the Academy. Daniel said "The role has taught me how to manage time and notice jobs that need to be completed without requiring instruction"
Academy Director Paul says "Volunteers are the pillars of our community, they enable the coaches to provide a greater service to our members and are a vital link between the younger members and the coaches ". Thank you to all our volunteers and everyone who gives up their time for others!"