GBR CADET MEN'S EPEE TEAM DEFEND GOLD IN BELGRADE
GBR Men's Cadet Epee team take Gold in Belgrade, Serbia, for the second year running at the 2022 EFC Cadet event.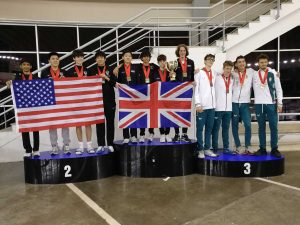 The GBR 1 team of Cador Beautyman (Knightsbridge Fencing Club), Cheney Zhu (Knightsbridge Fencing Club), Oliver Golanowski (Derbyshire Epee Academy) and Sameer Sunder Rajan (Brixton Fencing Club) pulled out another outstanding team performance, this time taking the top spot on the podium.
The same team that took Silver in Budapest at the start of the month made the most of starting the day as the 2nd seed of the 45 teams to start. After a bye into the 32, their first opponents were the host nation Serbia, winning comfortably 45-22. They then went on to defeat Hungary 4, 45-25, and Ukraine 2 45-39.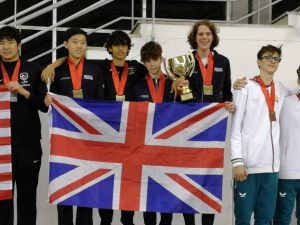 In the semi-final, the team put in a strong performance to take their place in the final, beating Hungary 2 by 45-32. Taking control of the match from the third leg, each member of the team played a role to maintain the advantage.
The final drew the USA 2 team, who earlier that day had beaten Hungary and Romania. The GB team started positively, holding a narrow lead all the way until the 7th leg when the US team levelled. Keeping their composure, the team finished strongly taking the trophy with a 45-39 victory.
The victory now secures the GBR team as the 2nd-ranked Cadet Men's Epee team in the EFC rankings.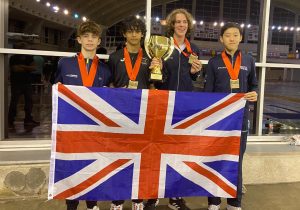 Ian Lichfield, Weapon Lead for Epee, said, "It is clearly fantastic that these athletes have followed up last year's 1st place, with another win today, following on from their silver medal from Budapest.  But the story around this team and the wider groups of athletes supporting each other and working together is a huge part of these successes. I would like to congratulate the athletes, their parents and their personal coaches for their continued support in these athletes' development."
British Fencing and the ADP would like to thank the parents and the personal coaches for their continued support at these events.
Full results for Belgrade are here.
Don't miss the latest news. Subscribe to our weekly summary email, The Fencing Digest, featuring the previous week's latest news and announcements. Sign up here.