British Fencing is delighted to congratulate Gillian Donaldson (née Sheen) who has been awarded an MBE in the Queen's Birthday Honours List, 2019.
Gillian won an individual Olympic Gold medal for Britain in the Melbourne 1956 Olympics at fencing (foil). At the time of writing Dr Sheen is 90 years old and has lived in New York State since the 1960s.
Although a seven-times national champion, Gillian, at 28, was a rank outsider going into the 1956 Melbourne Olympics, and narrowly squeezed into the round-robin final. According to press reports at the time, she was ice-cool as she beat six of her seven opponents, losing only to a Romanian. The Romanian fencer also lost a bout (the fencing term for a fight or match) leaving both competitors with six victories.
This meant that the two fencers had to fight off for Gold in what is termed a 'barrage' – a fight-off between competitors on equal numbers of victories.  Unlike the current Olympic format where the bouts are first-to-fifteen, this was a first-to-five hit match.  In a tense start, Gillian took a 3-1 lead against the woman who had previously beaten her. The Romanian then scored a point to make the score 3-2. Gillian successfully defended her lead as time ran down and with seconds left the Romanian fencer launched a desperate attack. Gillian parried (the fencing term for using the blade to deflecting the opponents attacking blade) and then landed the return hit (the "riposte"). This hit extended her lead, and as the last second of time ran out, secured her the Olympic title.
Gillian was quoted as saying: "I guess mother and father will be pleased about that."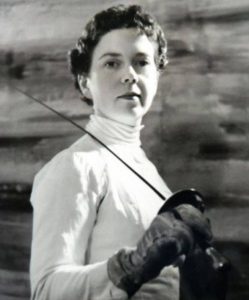 Gillian is one of five individual British Gold Medallists at the 1956 Melbourne Olympics to receive National Honours. The others, who received their Honours previously are: Chris Brasher – Athletics, Men's 3.000m Steeplechase CBE; Terence Spinks – Boxing, Men's Flyweight MBE; Richard McTaggart – Boxing, Men's Lightweight MBE; Judy Grinham – Swimming, Women's 100m Backstroke MBE, which she received in 2007, 50 years after winning gold in Melbourne.
Two other British Olympic fencing medallists – Allan Jay (silver 1960) and Bill Hoskyns (silver 1964) have both previously received MBEs.
Gillian moved to the US in 1960s after marrying an American, but has kept her British nationality. She was a dentist and raised four children. She wrote a book: "Instructions to Young Fencers" which was published in 1958.
She has always kept in touch with fencing in the UK, flying back for special events, including the 2012 London Olympics and supporting young British fencers. You can see a British Fencing interview with Gillian Sheen here:
In support of her nomination, Keith Smith MBE, President of British Fencing from 2002 to 2012 said, "Gillian was a long time British International fencer and also helped massively with the running of her beloved sport after her competitive career ended. She always kept in touch with fencing and how British Fencing was doing, even flying back to the UK for our Centenary Dinner in 2002 and contributing to funds for our younger fencers on that occasion."
Hilary Philbin MBE, President of British Fencing added, "As an Olympic gold medallist Gillian became an inspiration to a new generation of fencers and remains so to this day.
She was a strong supporter of the London 2012 Olympic Games, taking great pleasure in attending as a spectator, and was enthusiastic about the many changes that had taken place in her sport."
Congratulations to Gillian on her Honours.