GOLDS FOR SOSNOV & CADET MENS FOIL TEAM IN POLAND
Great Britain's Cadet male foilists enjoyed a successful competition in Wiltold Woyda U17 Foil competition in Warsaw at the weekend, with gold in both the individual and team events.
David Sosnov (ZFW) – fresh from his double victory at the National Junior and Cadet Championships last weekend – won the competition after an impressive day's fencing.
He won 5 from 6 in his poule incurring a single 5-4 defeat to Levadnii (UKR) and was seeded 17th in the DE.
He defeated Koren (ISR) 15-3 in L128 , Bebesi (HUN) 15-6 in L64 , Mozejko (POL) 15-9 in L32, Orovecz (HUN) 15-14 L16, Scalora (ITA) 15-2 L8 , Duraj (POL) 15-8 L4 and defeated Rea (ITA) 15-5 in the final. There were 155 participants.
After his victory David said "I feel privileged to have competed in such an incredible event and winning it made me feel very proud to honour one of my coach's personal idols"
His coach Ziemek Wojciechowski commented "Wiltold Woyda was my inspiration when I was a young fencer as I admired immensely his intelligence on the piste. Today David Sosnov matched this rare quality. Today wasn't just about winning . It was about having great relationships, teamwork and true passion."
Mihkel Archer (Newham Swords) finished in a credible 12th place.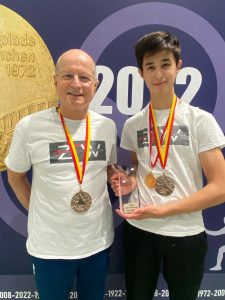 In the Team event Sosnov, Archer, Sterling and Keen produced a fantastic display to win the competition. There were 32 teams in the event and GBR – seeded 13th – started with a 45-27 victory against Ukraine 3 , beat Turkey 45-26 in the L16 , beat Poland 3 45-38 in the L8 , then beat Poland 1 45-44 in a thrilling semi final in which David Sosnov turned a losing 40 – 38 position into a 45- 44 win. In the final against Hungary David took over a 40-36 losing position and overturned the score with a 9-3 final leg victory to clinch the win 45-43.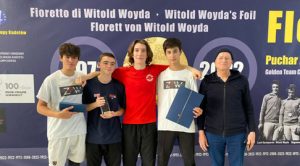 Congratulations  to all coaches and athletes on these inspirational results.
The team are on BF's Athlete Development Programme (ADP), funded by UK Sport and Sport England. The ADP is a six weapon programme that exists to support athletes in achieving Olympic success and inspiring others. It covers athletes from age 15 to 35 (and beyond for those performing at Olympic and Paralympic level) who are moving through a defined development pathway to success at the highest level of fencing. The ADP is founded on the strategic principles of being fencer-centred, development-driven, competition-supported.
You can find out more about the ADP here.
Don't miss the latest news. Subscribe to our weekly summary email, The Fencing Digest, featuring the previous week's latest news and announcements. Sign up here.