Buns, biscuits and fencing: Come to the Highway Rat Forest Feast Days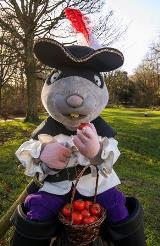 Families across England are invited into a forest near their home to celebrate the Highway Rat tour with a feast fit for the ratty rascal. Based on the children's picture book written by Julia Donaldson and illustrated by Axel Scheffler, creators of The Gruffalo, the Highway Rat is a gluttonous character who likes to steal people's food! Bring your buns and biscuits if you dare, and enjoy a great summer's day out that will be jam-packed with Highway Rat-themed activities and the chance to meet your favourite baddie face-to-face!
This June and July, the Highway Rat will be riding through the nation's forests and will visit 10 Forestry Commission England woodlands so that children and families can join him in a feast and get a photograph taken with the loveable rogue.
Learning some #HighwayRat swordplay is also on the menu, with a new and exciting partnership with British Fencing and Premier. Children and young families will love the opportunity to develop their fencing skills in a bookable programme of fun activities provided by Premier an "Official Delivery Partner in Primary Education" for British Fencing.
The tour kicked off at Moors Valley Country Park, Hampshire on 16 June and will take in all corners of England before finishing at Whinlatter Forest, Keswick on Saturday 28 July.
Bring your own picnic and Forestry Commission England will provide you with a free party pack full of ideas and games which you can download from www.forestryengland.uk/highwayrat
The 'Forest Feast Pack' includes blank invitations so visitors can invite their family and friends, recommended party games such as 'Hide and Seek' and 'Stuck in the Mud' as well as five different activity sheets to keep the children inspired during their time in the forest.
The Highway Rat trails can still be enjoyed in 21 forests across England until the end of the year.
Further details of trails and the Highway Rat forest feast party pack are available from www.forestry.gov.uk/highwayrat