HILLIER WINS BRONZE MEDAL IN BUDAPEST EFC CADET WOMEN'S EPEE
Harriet Hillier secured her first EFC medal at the opening EFC event of the 2022-23 season, in Hungary, finishing third.
In a strong field of 272 fencers from all over Europe and further afield, Harriet, Chelsea Fencing Club, started strongly to win all six of her poule fights, ranking joint 13th for the elimination rounds.
Having earned a bye through the 256, Harriet battled through a tough match against Testa (ITA) by the narrowest of margins, 15 -14. Her next opponent, Cohen (ISR), was equally challenging with Harriet winning by the same score line. 
Her journey to the semi-final was hard-fought. For her last 32 fight, Harriet had a more comfortable fight (Sych UKR), taking the victory 15 -7, but in a close match with Safrankova (CZE) 15-13 in the last 16, it was another single-point victory won on priority over Janeczek (POL) 11 -10 that saw Harriet appear in her first EFC semi-final.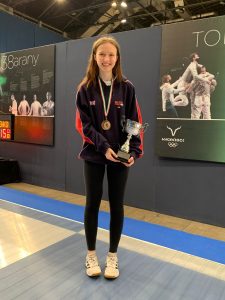 Maiga (SUI), the European ranked number 2, took the victory 15 -12. The overall winner Maksymenko (UKR) won in the final 15-6 to become the EFC number one ranked fencer.   
Harriet's coach, Bob Meshkoff, said:
"An exceptional start to the season with a bronze medal in the first Cadet EFC event of the season. After comfortably winning all her fights in the poule, Harriet kept her nerve throughout the day. Her tactical decisions were proven to be successful as she will now prepare for the forthcoming events."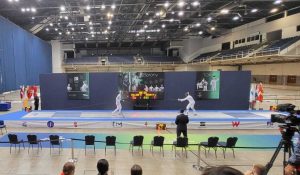 Don't miss the latest news. Subscribe to our weekly summary email, The Fencing Digest, featuring the previous week's latest news and announcements. Sign up here.