Georgina Usher Interviews Johnny Davis

In this episode, hosted by BF's CEO Georgina Usher, we hear the story of a young lad growing up in Belfast who moves to London and onto Germany in pursuit of his Olympic dream.
Two times Olympian (Seoul 1988 and Barcelona 1992) and BF Olympic Team Manager Johnny Davis gives us a fascinating insight into the qualities that made him a successful athlete – and how his parents supported him (it's probably not what you expect!). We also get the chance to hear about Johnny's plans to support the next generation of Olympic fencers in his new role with British Fencing.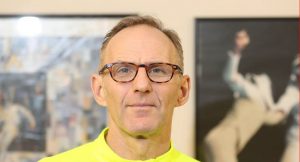 Learn about how he first discovered fencing and the stint in a hospital bed that led to him pursuing a career in fencing.
Hear how he travelled solo and carved out opportunities, overcame barriers and learned about himself and the world.
Discover his hopes and plans for the future of BF.