JUNIOR MEN'S FOIL SUCCESS IN BANGKOK
GBR enjoyed medal success at the Junior World Cup in Thailand over the weekend, with the Men's Foil Team taking Bronze.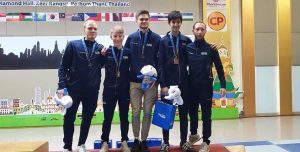 The team of Jaimie Cook, Raffi Rhys Pollitt, Oliver Strange and David Sosnov finished in 3rd place at the Junior World Cup in Bangkok, Thailand. Seeded 3rd going into the competition, they beat Chinese Taipei 45-25 in the L16, then closed out a tight match 45-41 against Hong Kong in the L8. The British team got off to a great start against second seed France, leading 15-5 and 30-21 before Spichiger came on to turn the match around. France closed out the match 45-43 to progress to the final.
Still in with a chance of a medal, Great Britain faced Uzbekistan, who had lost to the USA 44-43 in the other semi-final for the final place on the podium. It was another great start for the British team who led 15-6 and 30-14. Great Britain comfortably sealed the bronze medal and their place on the podium with a 45-34 victory. The USA went on to take the title in Bangkok, beating France 45-37. Thanks to Athlete Development Programme (ADP) coach Keith Cook for his role in this medal success.
In the Individual event, David Sosnov and Oliver Strange reached the L16, placing 12th and 16th respectively. In the Women's competition, Tamara Gavrilenko also made it to the L16, finishing 13th.
Full results are available here.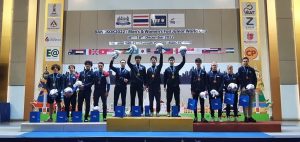 Don't miss the latest news. Subscribe to our weekly summary email, The Fencing Digest, featuring the previous week's latest news and announcements. Sign up here.