LONDON CUP BRONZE FOR GREAT BRITAIN'S CAMPBELL
Yasmin Campbell claimed bronze at the London Cup this weekend in a field of ninety-nine having made the top sixteen at the Barcelona Satellite event seven days earlier. 
Campbell began the day well, winning all six of her first round matches, earning third seed for the knockout stages. A bye through the incomplete 128 was followed by victories over Maria Sorini (ITA) 15-3, Eleonora Candeago (ITA) 11-9, Lihi Koren (ISR) 8-6 and Heloise Pelletier (FRA) 11-9 to make the semi-finals.
Facing Italian number two seed, Vittoria Ciampalini in the top four, Campbell contained her opponent in the early stages, soaking up a wave of pressure to get a feel for the distance. She then began looking for attacks into preparation but the Italian adjusted the speed of her attacks to take a 6-4 lead half way through the first period. A confidence boosting second intention counter-parry riposte for the Italian led to a more defensive approach from Campbell but not for long. Realising that she could not allow Ciampalini the space for her long attack, Campbell reverted to pressing off the line. The Italian adjusted again and landed a barrage of attacks, never finishing in the same line twice in a row, to take the fight 15-6.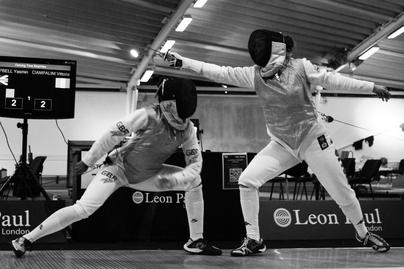 Ciampalini went on to claim the silver medal, losing 14-11 to Marion Rousseau (FRA) in the final. Campbell shared the bronze medal position with Claudia Memoli (ITA).
Full results are available here.
Don't miss the latest news. Subscribe to our weekly summary email, The Fencing Digest, featuring the previous week's latest news and announcements. Sign up here.