GBR Cadet Epee Display Significant Progress on International Circuit
The British Cadet Epee team returned from Copenhagen this weekend with a haul of one gold, one silver and three bronze medals, after an EFC event that demonstrated the progress made by both athletes and their support teams.
Men's Epee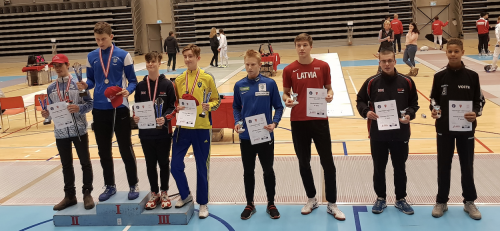 The medal run began on Saturday with a bronze for 15-year-old Edward Scott Payne of Leon Paul Epee.  In a field of 181 fencers, Edward came through the poule stage with four victories from six matches, placing him 54th for the knockout stages.  A bye through the round of 256 was followed by victories over Luque (ESP) 15-9, Chuzon (ESP) 15-8, Kuhta (FIN) 15-4 and Du Plessis de Richelieu (DEN) 15-8 to make the quarterfinals.  Nikulin (LAT) stood in the way of a guaranteed medal for Scott Payne but a disciplined and well-excuted fight saw him book his semi-final spot with a 15-11 victory.  That match was tight through the first period but Vilensky (ISR) built a small lead which he never relinquished, beating Edward 15-9.  The Israeli fencer went on to secure the silver medal, beaten by Priimagi (EST) in the final as Kelly (SWE) shared the bronze medal position with Edward.  Joseph Walmsley (Greater Manchester) also had a good day, making the quarterfinals and finishing in seventh place.
Speaking after the event, John Rees, BF's ADP Epee Lead, said, "Ed worked hard for his success maintaining a high level of focus throughout.  He justly deserved his bronze medal."
Full results are available here.
Women's Epee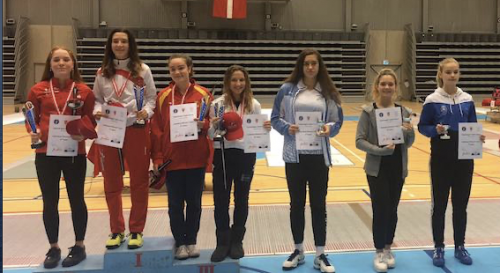 The women's individual event ran a little later on Saturday with more good news for Great Britain and Leon Paul Epee.  Isabella Summers battled through to take the silver medal in a field of 130 fencers.
Three victories from six first round fights meant she was ranked 61st for the knockout stages and had a real fight on her hands.  Her first fight was over due to the exclusion of her opponent Zardo (ITA).  Next up was the number four seed after the poules, Melles (EST).  After a tough fight Summers came through with a 10-8 win.  Three more tough battles followed but the British fencer showed great strength by winning them all – 15-13 over Chevaux (AUT), 12-11 against Lixandru (ESP) and 15-11 versus teammate Krzyzaniak.  Her semi-final was yet another tough battle against Bugna (ITA) but Summers continued to impress under pressure, winning 11-10 to make the gold medal match.  Despite another impressive fight, Summers had to settle for silver, going down 14-12 against Alvim (POR) in the final.  Robles (ESP) shared the bronze medal position with Bugna as Great Britain's Patrycja Krzyzaniak also impressed by finishing sixth.
Speaking about Summers, Rees said, "Isabella put together a string of gutsy performances throughout the day.  The final was a step too far but was competitive right to the last second.  It was another well-deserved medal – a silver."
Full results are here.
Men's Team Epee
The medals in the team event were decided on Sunday.  Great Britain entered four teams in a field of 36 as GBR 2 (Joshua Goh, Hal Jones, Marcus Richards and Joseph Walmsley) finished in the bronze medal position.
A bye through the round of 64 was followed by a comfortable 45-34 win against Sweden 3 before a tighter 45-41 victory against Finland 2 which meant a quarterfinal encounter with GBR 1 (Rudi Bruijn-Yard, Edward Scott Payne and Piero Steiner).  Both teams fenced with spirit but respect with GBR 2 taking the fight 45-39.  A 45-27 defeat at the hands of Estonia 1 meant a bronze medal play-off with Sweden 1.  GBR 2 showed a great deal of tactical decision making and the use of a smart substitution to take the medal 45-37.  Estonia 1 went on to take gold with victory over Israel 1.
Full results are here.
Women's Team Epee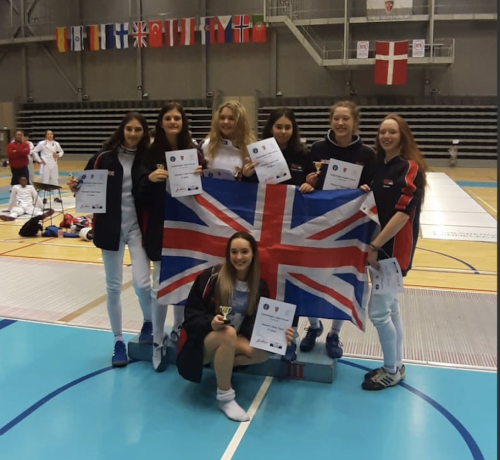 The British team saved the best to last in Copenhagen in the women's team event as GBR 1 (Abagael Black, Julia Caron and Keira Papdopoulos) claimed gold and GBR 2 (Imogen Bulman, Patrycja Krzyzaniak, Hannah Lebor and India Wilson) finished in the bronze medal position.
Both teams benefited from byes through the round of 32.  GBR 2 went on to comfortably beat Estonia 2, 43-39 and Estonia 1 45-33 whilst GBR 1 edged Austria 1 44-42 before dominating Sweden 1 45-31.  So the two British teams faced each other in the semi-finals in a tight affair that went down to priority.  GBR 1 held the priority but GBR 2 took the fight 42-41.  Buoyed by this result GBR 2 went on to take the Copenhagen title in style against Israel 1, 45-35 as GBR 1 comfortably beat Italy 1 45-35.
Full results are here.  (Please note that the results are incorrectly reversed for GBR 1 and GBR 2 from the semi-finals on this page.)
A delighted John Rees summed up the weekend saying, "Myself and the ADP team are very pleased with the performances across the GBR cadet epee squad.  The supporting behaviours of the athletes and the numbers scoring international points bodes well for the future.  The strength in depth is great to see with six men and five women having scored enough points to meet the qualifying standard for selection for the European and World Championships – and there are still more competitions to come!  On behalf of myself and British Fencing I would like to extend our thanks to the Epee Club for their continued financial support."
Isabella, Abagael, Julia, Keira, Imogen, Patrycja, India, Edward, Joshua, Hal, Marcus and Joseph are all young athletes on the British Fencing Athlete Development Programme, funded by Sport England: https://www.sportengland.org/.  More information about ADP camps, programmes and updates can be found here: https://www.britishfencing.com/gbr-fencing/gbr-development-programmes/gbr-athlete-development-programme/.