Meet the…Fundrasing Fencer
As part of our series of articles where we meet people from the fencing world, meet Max Titmuss. Max is running a marathon on the Great Wall on 1 May 2019 – in his fencing kit! He is raising money for the charity Ataxia UK, an organisation that supports people with the degenerative neurological condition known as Ataxia. Below, in his own words, he describes the plan of action.
What's The Goal?
The basic plan is as follows: turn up at the Great Wall on 1 May 2019 in my Leon Paul Apex kit and run a full 42km marathon. In the course of doing so, we can raise some money for charity. What could be easier?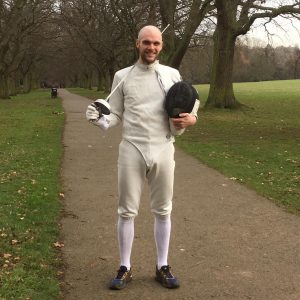 What made you did decide to do this?
Let me tell you how I got into this predicament…One evening in Beijing bar, I talked myself into something daft. Across the table sat my friend, boasting of his recent marathon triumph. To try and deflate him a bit I claimed that running a marathon was 'easy' and 'for wimps'. I may have even said 'anyone can do it – I could probably do it in my fencing kit'.
Instantly seeing I was full of it, he called my bluff: there was a marathon just on the horizon. "Why don't you run it with me?" he asked. "It's in May and it's on the Great Wall," he continued. Sheepishly, I asked, "On the Great Wall? Isn't that really hilly?", hoping he would tell me it was on a different, flatter, but nonetheless-still-pretty-great wall somewhere else in China. "Yes, that's the one. Would you like to sign up now online?"
So here I am, destined to run a marathon (which I have never done) on the Great Wall of China (which is quite long and hilly) in my fencing kit (just daft). Yet with your help I am hoping to turn this uncomfortable experience into something worthwhile: to help a charity which does valuable work for people suffering from the neurological condition Ataxia.
Why Ataxia?
Ataxia – a progressive neurological condition – took the life of my cousin, Alice, when she was only 2 years old and now affects her father, my uncle George. Ataxia UK helps provide assistance for those who have the condition and provides research money for potential treatments and cures. Many people are not aware of the condition, but it deeply affects the lives of those who have it and those close to them. I hope that through this fundraising we can help both raise awareness of the condition and provide help for those affected by it.
How can people donate?
I would be forever grateful if you were to donate on my JustGiving page, linked below. Whatever you feel you can afford would mean the world to me. http://justgiving.com/max-titmuss https://www.leonpaul.com/blog/running-the-great-wall-marathon-in-fencing-kit-the-project/