MEN'S EPEE TEAM CLAIM SILVER ON LAST DAY OF JUNIOR EUROPEANS
Alec Brooke, James Jeal, Jacob Mitchell and Joseph Walmsley teamed up on March 2nd for the last day of the Junior (U20) European Championships in Novi Sad and fenced their way to the silver medal in the Men's Team Epee event.
Ranked eleventh for the tournament, they faced Romania in the round of 32 and led from start to finish, winning 45-33. Their next opponent was number six seeds, the Czech Republic and again a dominant start saw Great Britain ease to a relatively comfortable 45-24 victory. They moved on to face number three seeds Spain and yet again dominated and went on to win 45-35.
A semi-final against number two seeds France was their reward and for the first time in the day, Great Britain fell behind, 15-6 a third of the way through the match. Brooke, Jeal and Walmsley staged a tremendous comeback in the middle three matches, all contributing to an 11-point turnaround to lead 29-27 after six legs. They completed the job and made the final 45-40.
GBR v France in the semi-final of the Junior Men's Epee team event. Image: BF
Against the European number one seeds, Switzerland, GB took a small lead after the first leg. But the experience and quality of the opposition were too much for the GB team on this occasion, extending the lead in the fourth leg. This time, there was not to be a comeback. The British team worked hard to find ways to break through, but the defensive strategy that the Swiss team adopted made it hard to get the vital single hits needed to overturn the deficit.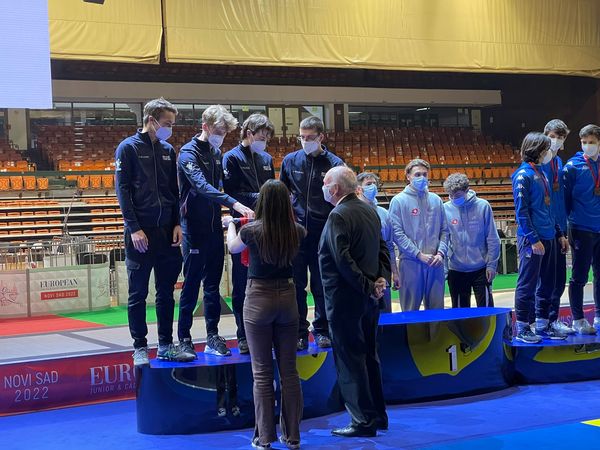 The Junior Men's Epee team on the podium, accepting their silver medals.
Ian Lichfield, Men's Epee Coach said, "The four athletes can be hugely proud of what they have achieved today. This result equals the best result ever achieved by a GB Team. Beating other international teams that have taken medals at Junior World Cups this season and overturning a 10-hit deficit in the match against France, to win by 5 clear hits, shows significant progress in development for the weapon in the UK."
The team are part of BF's Athlete Development Programme (ADP), funded by Sport England. You can find out more about the ADP here.
Don't miss the latest news and reports. Subscribe to our weekly summary email, The Fencing Digest, featuring the previous week's latest news and announcements. Sign up here.