MEPSTEAD BONN BRONZE BANG TO START SEASON
Marcus Mepstead opened his season with a medal winning performance in Bonn on Saturday. He claimed bronze, his first World Cup medal, having battled through the preliminary stages the day before. 
Ranked twenty-fourth going into the competition, he won four of his six first round fights in a massive field of 251. Seeded thirty-sixth for the preliminary knockout phase he earned a bye through the first match before beating F. Braun (GER) 15-7 and Rosenfeld (ISR) 15-9 to make the second day.
Saturday's action began with Mepstead defeating Toldo (BRA) 15-9 before victories over two Koreans, Lee 15-12 and Kim 15-13 which advanced him into the quarterfinals. Drawing Hamza (EGY) Mepstead took the lead mainly using his defensive game but the Egyptian drew level 6-6 before the first break. Hamza then took the lead in the second period but Mepstead not only drew level he took the lead by bringing in his attack. Hamza fought back hard but Marcus closed out a 15-13 victory with a beautiful late parry riposte.
In his semi-final against Italy's World number three and 2018 World Champion, Alessio Foconi, Mepstead showed great variety taking an early lead. The Italian scored a long attack and parry riposte and went into the first break 8-6 up. Foconi kept up the pressure in the second period to take the fight 15-8. The result moves Mepstead up to 17th in the World ranking.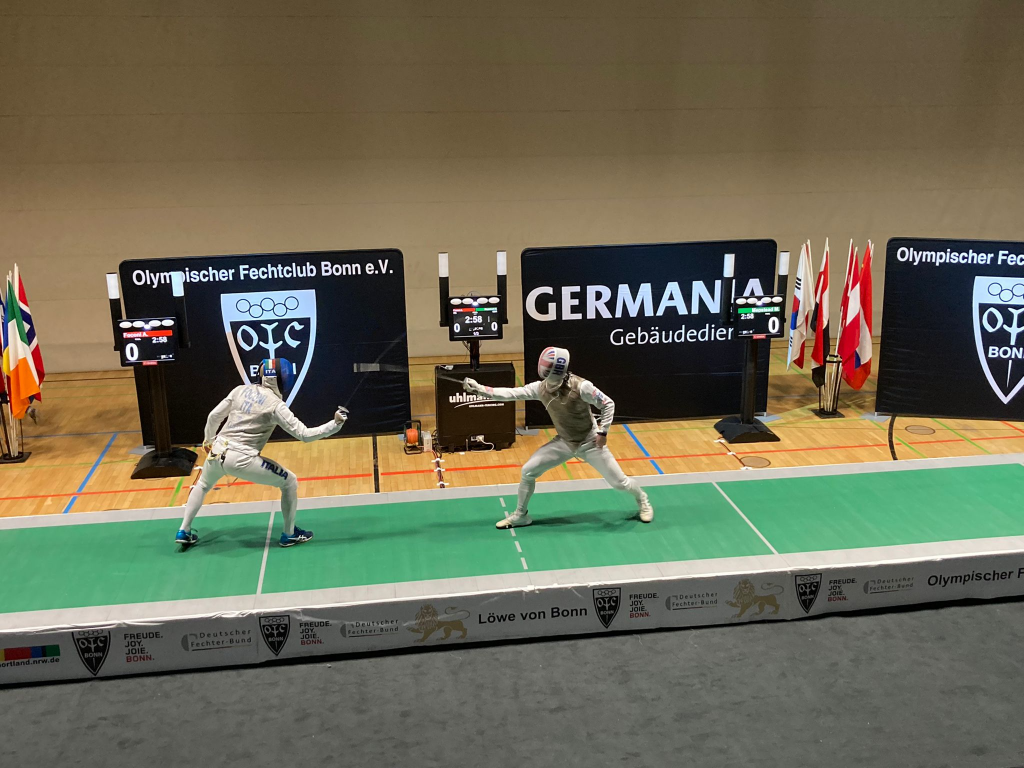 Speaking after the medal ceremony Mepstead said, "Great to build on last season's results and go beyond the quarter finals and into the medal rounds. It's been a lot of hard work to rebuild off the back of Covid disruptions and it's nice to see the results of the process Dan Kellner and I have been working hard on. Strong start to the season. Looking forward to building on this."
Coach Kellner added, "Marcus showed a lot of determination, discipline and fight today on his way to the bronze medal. His commitment to his training and fitness have paid dividends with his first World Cup medal."
Olympic Team Manager, Johnny Davis concluded, "Marcus fenced superbly this weekend and showed his world class ability . This was one of the largest and toughest World Cup competitions in memory and his third place finish is a testament to the hard work he and Dan Kellner have been putting in. It's a great start to the season and augers well for the forthcoming competitions."
Foconi claimed the silver medal losing 15-11 in the final to Matsuyama Kyosuke (JPN) who claimed his first World Cup title. Enzo Lefort (FRA) shared the bronze medal position with Mepstead.
Full results are available here.
Don't miss the latest news. Subscribe to our weekly summary email, The Fencing Digest, featuring the previous week's latest news and announcements. Sign up here.