My Fencing World: 24 hours of fencing for charity
 'My Fencing World' is an ongoing series of stories provided by people within our fencing community. Here, Elizabeth Fraser at Tenterden Swords shares the challenges and joys of fencing for 24 hours for charity.
"It's 2 in the morning and you are only halfway through 24 hours of fencing for charity and wondering why you let yourself in for this. How do you keep going and last for another 12 hours? For those who haven't discovered this yet, the Leon Paul SG12 box has two three-pin sockets above the screen and two below. This means that in theory four fencers can all be plugged in at the same time. However, what is more fun is to have one fencer plugged in one side and two on the other. Epee has suddenly become a lot more challenging.
"David Carr, the winner of the SE Region Epee championships 2019 & runner-up of the GB Cup 2019, was on one side with John Hyde and Ian Hamilton, two seasoned veterans on the other. We had already decided that all fights would be the first to 99, the highest score the box can register, so there was plenty of time to change tactics and try to learn how best to fight with two against one. There was no attempt to rig the result so it was a real climax when they reached 98-all, with David scoring the winning hit.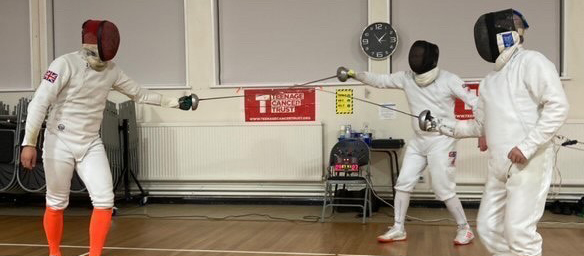 "The idea was the brainchild of Ellie Fraser to raise money for the Teenage Cancer Trust in memory of an old school friend who had to battle with cancer from infancy. Ellie, David & Ellie's sister Francesca, were the backbone of the event and kept going for the whole 24 hours. The worst part was the 5-6 am shift when the stalwarts were getting exhausted and having to hang on until the reinforcements arrived at 6. When they arrived everyone's spirits rose and the last few hours were positively joyful.
"The venue was the usual village hall used by Tenterden Swords. Fortunately, we have a good reputation with the Hall committee so they trusted us not to wake the neighbours. The rest of the team were members of the Tenterden club who had the fun of fighting to 99 hits for the first time and also finding that chair-bound fencing is a lot more tiring than fencing standing up.
"The event has so far raised £1700 for the charity – virtue rewarded."
If you would like to share your My Fencing World story, please email [email protected]