MY FENCING WORLD – OGHENEGAREN ESIOVWA-THOMPSON
'My Fencing World' explores the world of British Fencing as told through the personal stories of people of all ages and abilities in our community. Here we meet Oghenegaren (Garen) Esiovwa-Thompson, gold medalist in the Under 13 boy's epee at the Wratislavia Challenge 2022, who shares his experience of the event.
What is your name and club?
Hello, my name is Oghenegaren (Garen) Esiovwa-Thompson. I am 12 years old and have been fencing for 6 ½ years and fence at the Central London Fencing Club where I fence today.
How did you get into fencing?
I got into fencing through watching my favourite TV Show Power Rangers. This got me obsessed with swords and the result was that I played with a lot with kitchen utensils or anything with the shape or body of a sword. My mother noticed this and recommended that I should try out a sport that involved me using a sword. I started fencing and it was clear I had a talent for the sport and so I continued.
What do you love about fencing?
The three main things that I love about the sport is firstly that every game is different, so I can switch things up. Secondly, I love that there are always different to ways to attack and defend. Lastly, I like the intensity, especially having to think my way out of each match.
What other sports or activities do you do or love?
As well as fencing, I also like football and swimming.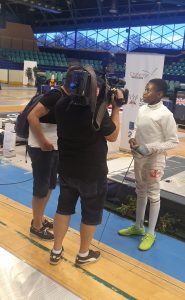 Who is your favourite fencer?
My favourite fencer to watch is Yannick Borel. I feel we share a similar style of fencing.
Tell us about your competition – what training did you do, and what were you hoping to get out of the competition?
The Wratislavia Challenge 2022 was one of the hardest competitions I've ever been in. All of the fencers were extremely good. The Polish fencer I faced in the round of 64 was a very tricky fencer to beat. He was 6 foot tall, and I had to think and change my tactics to beat him. My match in quarter finals was tough, and I faced a very good Ukrainian fencer. This was a close back and forth see-saw match. I was ahead by one point, then he was ahead by one point. The score ended at 8-8, it went to priority. He flèched at me, I parried and reposted and got the point to win the match 9-8. During the match in the final, I faced a fencer from Israel. I had to constantly think throughout this match as he was very clever at anticipating my defence from his attacks. In conclusion, all of the fencers at Wratislavia Challenge 2022 were very good. At the start of this competition, I was just hoping to make it to the last 8. I thank God and everyone at Central London Fencing Club, especially Filip Broniszewski and his wife for all of the intense training I received from them.
What was it like to travel abroad? Have you travelled before and if so, have you been to this area of the world before?
I had great time in Wrocław, Poland. I enjoyed the flight and the hotel, and my Dad took me to some nice restaurants while I was there.
What support did you have?
I want to thank my Mom, Dad and my sisters for all their support. I also want to thank the other fencers and their families who supported me through every match – they were Solu Ngoka, Louis Verghis-Smith and Casey Jones.
Don't miss the latest news. Subscribe to our weekly summary email, The Fencing Digest, featuring the previous week's latest news and announcements. Sign up here.