MY FENCING WORLD – TORI HIDE
'My Fencing World' explores the world of British Fencing as told through the personal stories of people of all ages and abilities in our community. Here we catch up with GBR athlete Victoria (Tori) Hide about her fencing journey and experience with a chronic illness, as well as her advice to younger fencers.
Introduce yourself – how did you get into fencing?
Hi, my name is Tori. I'm 24 and I live Newcastle. I started fencing at the age of 8 with my twin sister, getting involved through the Pony Club Tetrathlon route. My older sister was taking part in a fencing day with Yorkshire Pentathlon and we were dragged in to participate. From then on, I was hooked! I started at Easingwold School with Yorkshire Pentathlon and Harrogate Fencing Club. Then at the age of 14, I quit Pentathlon and solely focused on my fencing with Iain Aberdeen at Newcastle Fencing Club. Team Newcastle is where I have stayed, apart from a 3-year gap at Liverpool University competing my Undergraduate degree in Diagnostic Radiography.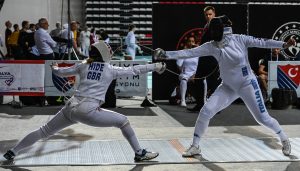 Tell us about your work – what do you do and what do you enjoy about it?
I work at the Royal Victoria Infirmary Hospital in the centre of Newcastle as a Neuroradiographer. I have absolutely loved working in the NHS for the past 3 years. As a radiographer I take X-rays as well as CT and MRI scanning, and I often spend days in theatres imaging for surgery. It's a very high pace job, working with a wide range of people. I never seem to stop talking for 12 hours a day!
Being a radiographer within the NHS at the start of the pandemic was very tough. If you came into the hospital with COVID, the first people that you would've met were us! A general chest X-ray gives lots of information on the spread of the infection and lung function. Nowadays, this just a general chilled-out part of my job. However, at the start of the pandemic, I was part of a few radiographers that were training in full Personal Protective Equipment (PPE). This meant head-to-toe gowns with layers of protective gear going to X-ray the very first COVID patients that entered the UK. It was such a daunting time, feeling like you were risking your life one X-ray at a time. I wouldn't have been able to get through the pandemic without the support of my fellow staff, with whom I spent 40+ hours a week trying to deal with the overload of patients!
Tell us about your journey with Fibromyalgia – what is Fibromyalgia and how does it affect you and your fencing?
I was diagnosed with Fibromyalgia at the age of 21 after suffering with chronic pain from the age of 15. Initially, my pain started after falling off my horse at Royal Windsor Horse Show (in front of the Queen). It started with muscle pain in my back but slowly spread to chronic joint pain, stiffness, and fatigue every day.

It affects me day-to-day with lots of pain from the moment I wake up. Also, it affects my sleep cycle with fewer REM cycles in my sleep than normal. This means that on top of my muscle soreness, I am fatigued a lot more than I used to be and never seem to have enough sleep.
Mentally, it's very draining and it's the reason why I took 2.5 years off fencing to try and manage the pain. Getting stronger in the gym and re-joining fencing this season has helped massively with my mental health. I think that the endorphins and adrenaline during fencing keep the pain at bay, so it's a distraction to my constant pain. Restarting fencing has given me more of a purpose in life, which means that it's much easier to get out of bed.
Sometimes my pain isn't at bay during my competitions, but with the help of the girls on the GBR team (shout-out to Kat Smith and Danny Lawson), I know that there's always someone around to support me and to keep me in a positive mind-set.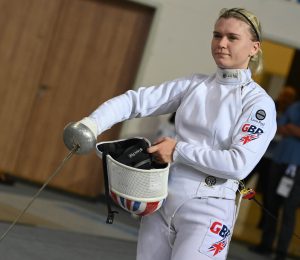 Tell us how the Senior Euros went, and what you learnt from the competition.
Europeans was my first ever major Championships. I was so excited after always narrowly missing out in the U17 and U20. Having being selected for Commonwealths for England the month before, I never thought that Ian Lichfield would call me up and offer me a place. I only started fencing again in September, so I was very anxious but ecstatic to have been picked to fence with 3 GBR women that I have always looked up to in my fencing career. I didn't really have a goal for Euros, just to work on my distance and timing without rushing into things. I think that because I've just come back to fencing, it's more about my reactions and the fact that I don't always think about what I'm setting up.
I am so happy with how I fenced at Euros. I won 40% of my fights, and beat Navarria from Italy who just finished 6th at the World Championships and 3rd at the European Championships. It was such an amazing experience, much bigger than anything I've done. Having all of the British Fencing team for support and lots of physio!
Looking ahead to Commonwealths, what's next for you?
Commonwealths is a first for me! Since the European Championships, I have been working with a personal trainer 4 days a week to put strength and power back into my fencing. It'll be interesting to see how this affects my performance.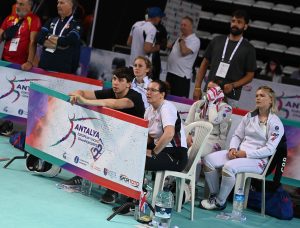 Have you got any advice for young people wanting to move forwards – fencing or otherwise?
Honestly, I'd say just to keep trying! I tried for nearly 10 years to qualify for a major Championship and it finally happened. One of the greatest obstacles to your success is self-doubt.
Also, a little advice to everyone suffering with chronic illness, especially as a young person: find a good support group – my email is [email protected] if you want to chat. Moreover, find a passion, pace yourself, and be honest with yourself. If you cannot get out of bed due to pain, in no way does that make you lazy!
---
Don't miss the latest news. Subscribe to our weekly summary email, The Fencing Digest, featuring the previous week's latest news and announcements. Sign up here.