PARA FENCING IN PISA- LEANING TOWER WORLD CUP REPORT
World number one for the men's foil team, as well as medals and great teamwork- all in the GBR Para Fencing report from the World Cup in Pisa, September 22-25th, 2022.
Report and images provided by Maggie Maynard:
Fencing started at 9am on Thursday 22nd Sept, with Men's Epee Cat A, with Piers Gilliver, Oliver Lam-Watson and Josh Waddell. The Women's Sabre Cat A started at 13.00, with Gemma Collis.
At 1pm, Dimitri Coutya and Shah Rashid began with Men's Sabre Cat B.
Piers won GOLD, and Dimitri won GOLD.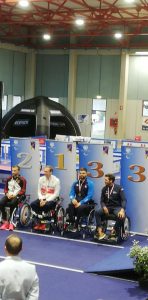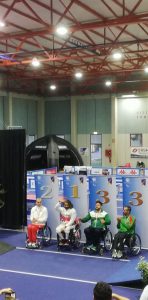 Friday 23rd September saw Piers starting at 9am with Men's Sabre Cat A, and at 10am, Justine Moore started the Women's Foil Cat B.
At 1pm, Emily Holder started the Women's Foil Cat A, and Shah the Men's Sabre Cat B.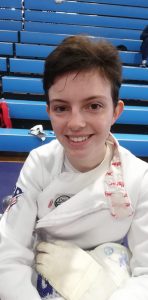 Piers won SILVER.
Saturday 24th September involved all the GBR fencers. At 9am, Dimitri and Shah started in the Men's Foil Cat B, and at the same time, Gemma and Emily started in the Women's Epee Cat A. At 1pm Piers Oliver and Joshua started the Men's Foil Cat A, and Justine began the Women's Epee Cat B.
Dimitri won GOLD.
On Saturday 25th the Team competitions started at 9am.
The Men's Foil team was Piers Gilliver, Dimitri Coutya, and Oliver Lam-Watson with Joshua Waddell as reserve. After a near-perfect performance, the Team won GOLD. (Editor's note, this takes the GBR Men's Para Fencing foil team to number one in the world.)
The Women's Epee team was Gemma Collis, Justine Moore and Emily Holder.
The Women's Epee Team met France in the first round, and was beaten 36-45. The fencers put up a great fight and all did extremely well. They met Korea in the 5-6 play-off, and beat them to take 5th place. The score was 41 – 37.
Team Manager Maggie Maynard said, "All members of the team made a brilliant contribution to the final result, and worked together with tactical discussions, idea-sharing and massive encouragement. Baldip Sahota was immensely supportive, with valuable advice throughout the matches. I was extremely proud of the team members, with the team spirit and dedication they showed throughout the matches. Given that these three have only fenced together once in an international World Cup Team event, and that no women's teams have competed internationally since 2012, it holds great promise for the future."
Don't miss the latest news. Subscribe to our weekly summary email, The Fencing Digest, featuring the previous week's latest news and announcements. Sign up here.