POZNAN GOLD FOR STUTCHBURY
Carolina Stutchbury exacted a brilliant performance at the EFC Cadet Women's Foil event in Poznań, Poland, taking gold in the individual. 
Stutchbury clinches the last BF nominated Cadet Women's Foil title before Cadet and Junior Europeans, in Novi-Sad, Serbia. Seeded first after poules, Stutchbury had already shown sublime control, only conceding two hits in the prelims and steeling herself to win one fight 2-0, maintaining a mature patience to head off the potential perils of the poule match's slow pace.
A bye to the T64 saw Stutchbury face Elvin Gulisik (TUR) with a 15-4 dispatch. The Last 32, and Stutchbury was matched against Laura Szczechowska (POL). The first two periods were tightly contested, with the score at the end of the second period 6-3. Stutchbury went on the attack in the third, pressing her opponent to do the same. Stutchbury won 13-7.
After beating Larissa Evers (GER) in the Last 16, Stutchbury converged with GBR team-mate Amelie Tsang who herself had beaten GBR's Isabella Johnson in the T16. Stutchbury continued her form, winning 15-13 and, progressing to the semis, she beat Anna Kollar (POL) 15-11 and then Alisa Isbir (TUR) 15-5 in the final.
With her personal coach unable to attend the event, Stutchbury relied on the support of the entire squad and designated ADP Coach for the trip, Ben Peggs who was impressed with both the individual and team dynamics.
"It was both a blessing and a curse to have our GBR girls meeting one another in the T16 and T8. It's tough there had to be only one winner of those matches but we knew that one would definitely make a medal", said Peggs. "The GBR athletes stayed and cheered for their fellow fencers left in and this level of support powered Carolina to the end. She was excellent all day, playing a great defensive game and demonstrating superb mental resilience and focus."
Stutchbury said "I am very happy with my result. Although parts of the day did not go how I wanted I managed to push through. I really enjoyed everyone being there to support me and it was great as unfortunately my coach could not be there although he offered support where he could. I am looking forward to Europeans in a few weeks and am also excited for the team tournament."
In the team event, Stutchbury, Tsang and Johnson were joined by team-mate Megan Elliott. Seeded 8th out of 32 teams, GBR 1 confidently defeated Latvia 45-27 in the T32 and went on to beat Germany 45-37 in the Last 16. Team quarterfinals, and they drew Turkey to suffer the narrowest of losses at 37-36. No longer in medal contention, GBR 1 still showed their team mettle beating Hungary 2 45-24 and Poland 3 45-19 to finish in 5th place.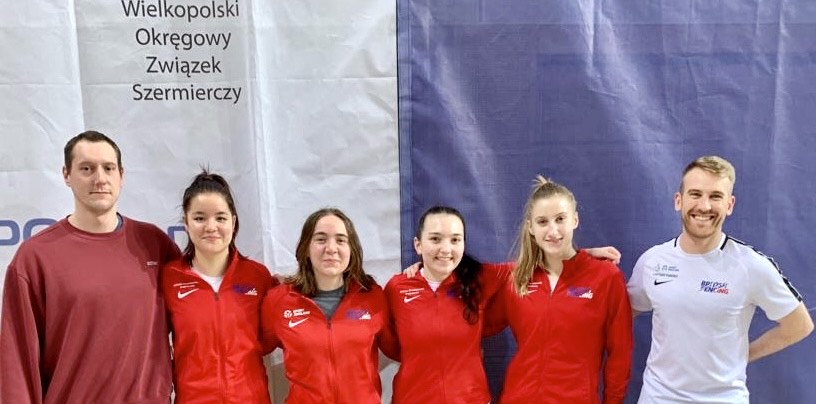 In tribute to their performance, Peggs said "They fenced with heart but what was so gratifying to see was how they modelled competitive behaviours alongside kind-hearted gestures which created an echo chamber of positives that can be carried on. All kudos to the entire squad of Cadet Women's Foil for setting the culture at such a strong level with such a united front that it was easy for everyone to operate to their optimum."
Full results for Poznań are here.
Don't miss the latest updates including all the latest GBR news. Subscribe to our weekly summary email, The Fencing Digest. Sign up here.