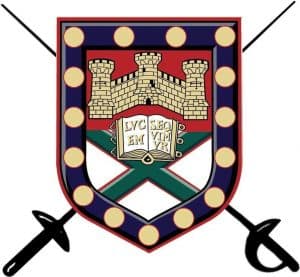 It has never been cheap to run a fencing club on a student budget, so university clubs often struggle with finances, but with a little help, these clubs can achieve so much. British Fencing's Ian Stewart sat down with Arlen Veysey, University of Exeter Fencing Club's Competition Secretary, to talk about how they are enhancing the experience of fencing for their students with extra investment from the university and alumni support, and how this can have a positive outcome for fencing.
It seems that your fencing club has had some extra finances to buy new equipment, how have you used it and what did it mean to the club?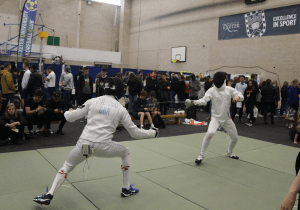 We can't thank our amazing supporters and alumni enough, their generosity in contributing to the University of Exeter Fencing Club is outstanding! Last year with their money we had the exciting opportunity to invest in getting wireless fencing equipment for the club. Having brand new wireless equipment is really raising our game, putting our club at the forefront of technological innovation in fencing. We really wanted to improve standards at our club and give the best possible experience for our students. Our goal is to raise the game and our philosophy is to strive for constant improvement of both the club and its members in an inclusive community. We have a continuous dedication from all our club members, current and alumni, this binds our club together and creates such a fun and positive atmosphere.
Has this helped to raise the standards across all areas of the club too?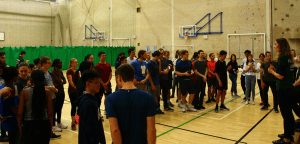 Our alumni are amazing. Their fund allowed us to implement our 'Electric Fencing for Beginners' project, which was extremely exciting. Our aim was to ensure that we had enough electric foil equipment for ALL beginners at the club to use. We wanted to show that we value these new members and make sure they can seamlessly progress onto electric fencing and push for a higher personal skill level. The club committee worked tirelessly to make the project work and it had a hugely positive impact, our beginners went straight from using the kit to competing in beginner competitions around the country. Our commitment to the beginners' experience has demonstrated to our Athletic Union our club enthusiasm and our desire to improve the club. Our motto has been "the aim of the game is to raise the game" and with a bit of help, we've managed to do just that.
It's great to have such an engaged alumni, but is the club also supported through the university and do they see value in what fencing as a sport can bring?
Definitely, on top of the generosity of our alumni, our Athletic Union has also supported us by fully funding a Men's 2nd team. This is an amazing opportunity which really will help get more fencers involved with BUCS fixtures. The Athletic Union also backed our 'Electric Fencing for Beginners' project, they know that projects like this are invaluable to sports development and really getting beginners involved, which is so good to see. Their support in gaining us facilities for competitions and their dedication to supporting sport is so wonderful to see. We can't thank them enough for their hard work and sheer dedication to active sport development.
It's really good to hear that a university values their fencing club in this way, so what has been the results of 'raising the game' at Exeter?
Firstly, we had a record-breaking number of signups last year which reflects extremely positively on our club ethos and fencing as a whole. The huge increase in club membership has meant that we can expand our club's outreach impact. On top of our BUCS fixtures, we have hosted the South West Team Championships, a competition for beginners and experienced fencers from around the region. It was a resounding success and received extremely positive feedback from all who attended. It was really amazing, and we can't thank the fencers of the South West region enough for coming and showing their support. We also ran an intra-club beginner's competition this spring, which was also a huge success, the beginners had an amazing time and got a taste of how a fencing competition is run. We hope to run many more competitions like these in the future, there's a real passion for fencing here, not just to compete, but to really get engaged with the local fencing community.
That's great, sometimes it's a little too easy for university clubs to exist in the student bubble so it's really good to hear you want to engage with the community more, what sort of things have you done in the community?
Our committee also organised an amazing regional opportunity last year. We hosted a British Fencing Coach Development Weekend in October. This was instrumental in allowing fencers both from the university and over the region to gain their coaching qualifications. We would like to thank British Fencing for coming down to Exeter and training uploads of enthusiastic fencers. We also would like to give a huge thank you to Peter and Janet Huggins for running an armoury course this June to train up armourers in our region. Our fencers are so enthusiastic and organising courses like these gives them the chance for personal improvement and the opportunity to gain valuable skills and qualifications. One of the best things about the committee is their sheer dedication to fencing as a whole and the welfare of all members and it is an incredible group to be part of.
You sound like you really love being part of the club, why is it so special to you?
Exeter University Fencing Club, like many other university clubs I have encountered, has such an amazing attitude and dedication to the sport of fencing. There's a positive atmosphere which really gets people involved in the sport. Students who have never tried fencing before or have never considered doing it have learned to really love the sport. This is the beauty of being on the committee of a university fencing club, on a personal level it's so gratifying seeing students so invested in fencing. We hope that everyone keeps raising their game and improving themselves, their club and their fencing community. Embedding a positive attitude, inclusivity, and pure dedication is key to why fencing one of the best sports.