RIGA BRONZE FOR BROOKE
Alec Brooke claimed bronze at the Junior World Cup in Riga, Latvia, at the weekend from a massive field of two hundred and sixty-five.
Starting the day in the first wave of a field of 266 fencers, Brooke entered the poules with two early losses and then followed up with 4 convincing wins. Brooke was ranked fifty-seventh for the elimination phase of the event, which was enough to earn him a bye in the incomplete 256.
Brooke then faced Maisstrenko (UKR), and a solid performance saw him take the bout 15-9. He then faced 11th seed Skylar Levant (USA) in the round of 64. Brooke found his rhythm and a strong performance saw him through to the 32, meeting Brochard (SUI) (Ranked 6th in the World). The bout between Brochard and Brooke proved to be an exciting match-up, with the lead changing several times with Brooke coming back to take the bout 15-14. Brooke then defeated Trebis (GER) 15-14 from 13 – 8 down, adapting his fencing to manage his energy levels.
This set up a last-8 bout with Galassi, the highly-rated Italian whose speed and accuracy off the mark had been causing problems for fencers throughout the competition. This proved to be the same for Brooke, and the bout was fought at a high tempo. Within the final period, Brooke finally disrupted Galassi's attack to pressure the Italian, taking the fight 15-13.
The last 4 was fought against Samuel Imrek (USA), the current Cadet World Champion. Imrek's unorthodox style proved too much of a challenge for Brooke, this time around losing out 11-15. Simone Mencarelli (ITA) took the title, beating Imrek 13-12 in the final. Brooke shared the bronze medal position with Yonatan Cohen (ISR).
Brooke said, "I hadn't felt great about my fencing performances since Paris [Senior World Cup] and was out of form. But in my first DE fight, something just clicked and I found my mojo, and everything started to work. My next few matches were physically tough to win, so in the semi-final, I didn't feel I had the energy needed to fence that match the way I needed to. Overall I am happy to have taken home a medal."
Full results are available here.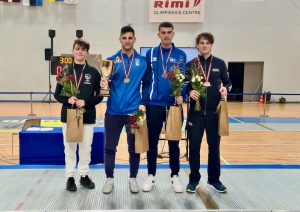 Don't miss the latest news. Subscribe to our weekly summary email, The Fencing Digest, featuring the previous week's latest news and announcements. Sign up here.