ROBERT BRUNIGES 1956-2023
Robert Bruniges, World Junior Foil Champion, GBR Olympian, Fencing Coach and cherished friend to many in the fencing community has passed away.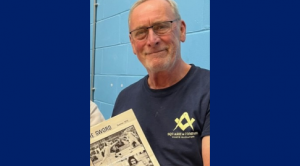 Rob was a cherished member of the BF community and was a World Junior Foil Champion 1976, GB Foil Champion 1981, GBR Olympian 1976, 1980, 1984, coach, coach developer, mentor and a great friend.
The Chairman of Bath Sword Club Andrew Courtney said, "Rob's passion was fencing.  His bright smile and warmth shone brightly wherever he was, whether coaching at club, working on behalf of British Fencing or just reminiscing the glory years when he was one of the best GBR fencers this country produced. His passing will be a great loss to the fencing community.
"Above all else he was a friend to many of us, so on Thursday evening at Bath Sword Club we will hold a minute silence in honour of our dearly departed friend."
Steve Kemp, BF's Pathways Director said, "In my seven years working with Rob, he always brought his warmth, his humour, he was someone who was so generous with his time and always considered the people in front of him. He just loved fencing and I know he will be greatly missed by the community."
Georgina Usher, BF's CEO said, "On behalf of British Fencing I extend our deepest condolences to Rob's family, friends and loved ones. Rob brought warmth and kindness to every fencing environment, and his impact across the sport cannot be underestimated. His loss will come as a great shock to many across the community."
On behalf of BF's members and the UK fencing community, we offer our sincere condolences to Rob's family and friends.
Added 9.02.2023 – There is a Justgiving fund being set up to in Rob's name to support young fencers in achieving their potential whether it was regional, national or internationally. Details here: https://www.justgiving.com/crowdfunding/robbrunigesmemorial