SILVER FOR CADET WOMEN'S FOIL TEAM IN SLOVAKIA
Great Britain's Cadet Women's Foilists enjoyed success at The Coupe de Samaria in Slovakia, winning silver in the team event.
The future looks bright for Cadet Women's Foil as they seized silver in the team event at The Coupe de Samaria in Slovakia, placing GBR third in the European team rankings.
For Coach Dominique Szokolovics, it was a nostalgic trip to Slovakia where she herself had won a bronze individual medal some years before in 2004.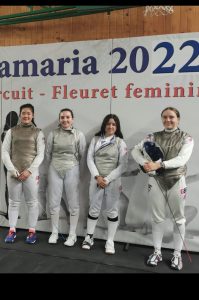 With thirty-nine teams contesting the Cadet Women's Foil Coupe de Samaria, four GBR line-ups started in the Tableau of 64. GBR1 and GBR2 enjoyed a bye to the L32 where GBR4 joined them after despatching ROU4 45-15 as GBR3 succumbed to ITA 42-30.
GBR1 faced TUR3, with their squad-mates GBR2 taking on TUR2. Both British teams claimed victory and a place in the Last 16. There, GBR2 fell to POL2 and thirteenth seeded GBR1 took on Romania's first team – seeded fourth. Consistency and a methodology of working patiently and carefully for each point saw GBR1 win 45-29.
In the quarter-finals, the British first team were matched against POL2. Again, a steady and controlled performance meant GBR were to claim a 45-33 victory for a chance at the medals. Matched against the number one seeded Germany for the semi-final, GBR stood firm for the fight. Significant losses to Germany's Seiffert did not sway the nerve of the British Cadet girls. Going in to the final bout at 39-39, GBR's Isabella Johnson scored six hits to Lea Zoni's three touches, progressing the team to the final.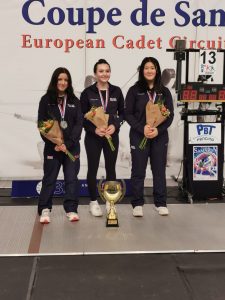 There, matched against an Israeli-Greek team, GBR rallied where they could but eventually succumbed 45-29. It was a silver medal for Maddi Beard (FCL), Megan Elliott (Inspion), Ann-Emma Hu (Edinburgh) and Isabella Johnson (FCL).
Dominique said, "I was an honour to coach the Cadet Foilists. From the get-go, they had a sense of craftsmanship and teamwork instantly. With determination, they plotted their own course to secure a medal. What a great season-opener on the EFC Circuit!"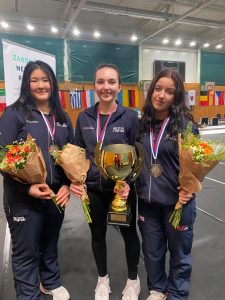 Don't miss the latest news. Subscribe to our weekly summary email, The Fencing Digest, featuring the previous week's latest news and announcements. Sign up here.