STUTCHBURY ACHIEVES JUNIOR WORLD NUMBER 1 RANKING
Following her recent win at the Lima Junior World Cup, Carolina Stutchbury is now ranked World Number 1 in the FIE Junior Women's Foil Rankings.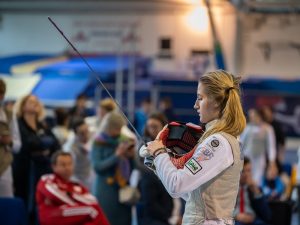 Ranking World Number 1 is a landmark achievement for Carolina, and she will be looking to consolidate the ranking throughout the rest of the season.
Carolina said,
"I am very happy to be ranked World Number 1 and that all the work over the last year has paid off. The next step will be to hold the ranking for the rest of the season. I am excited for my Senior ranking to improve as well."
Johnny Davis, ADP Foil Lead and Olympic Team Manager, said,
"This is a significant achievement for Carolina and her team. In International Fencing winning medals and titles is one measurement of success but to be ranked World Number 1 – based on consistently world class results over the season – is another important measurement and in many ways is the most indicative measure of an athletes ability. Very few people ever achieve the status of World Number 1 and Carolina and her team should be applauded for this fantastic achievement."
BF would like to wish Carolina congratulations on her dedication and achievement in ranking World Number 1, and all the best for the rest of the season.
Don't miss the latest news. Subscribe to our weekly summary email, The Fencing Digest, featuring the previous week's latest news and announcements. Sign up here.