STUTCHBURY LANDS LIMA GOLD
Carolina Stutchbury claimed the Women's Foil Junior World Cup title in Lima, Peru, at the weekend.
Competing in a field of thirty-two, Stutchbury won five of her six first round matches, ranking sixth for the elimination stages. She went on to dominate in the rounds of 32 and 16, beating Mena Ortiz (ESA) 15-1 and Marosi (HUN) 15-3, respectively.
Her quarterfinal bout was against the fencer that she had lost to in the first round, Gaydos (ESP), who was ranked third. Stutchbury controlled the fight well, winning 15-5 and guaranteeing a place on the podium. Clearly on form, Stutchbury beat another Spaniard, Arianda Tucker, 15-3 in the semi-finals. She then went on to win the title with a 15-6 victory over Luca Kalocsai (HUN) in the final.
Speaking after the event, Stutchbury said, "It was a good day of fencing and nice to see my work over the last few weeks pay off. I am excited for the first Senior World Cup of the season in Belgrade next month."
Tucker shared the bronze medal position with Kristina Petrova (UKR).
Full results are available here.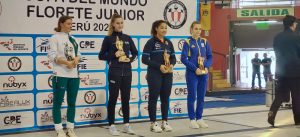 Don't miss the latest news. Subscribe to our weekly summary email, The Fencing Digest, featuring the previous week's latest news and announcements. Sign up here.