STUTCHBURY MEDALS IN KENTUCKY NORTH AMERICAN CUP
Carolina Stutchbury started her 2023 campaign with an impressive 3rd place finish in the January North American Cup (NAC) Division 1 Senior Women's Foil event in Kentucky.
The NAC events are used by USA Fencing for their qualification process. They attract all of the top USA fencers, as well as a wide range of international athletes who are living and training in the USA.
There were 170 starters and Carolina won all her poule matches, giving her an 11th place ranking for the Direct Eliminations. In her L128 DE, she defeated Elizabeth Novoseltseva (USA) 15-5, followed by Iman Blow (USA) in the L64 15-7. She then edged out Katerina Lung (USA) 11-10 in the L32.
Her L16 fight with with Camilla Rivano (ITA) was an epic affair which saw the lead change hands a number of times. The fight eventually went to the Priority Minute and Carolina, with the Priority, won the fight 10-9. In her next L8 fight she drew Maia Weintraub (USA), member of the current USA Women's Foil Team, and comfortably won the fight 15-8 to guarantee her a medal.
Her semi-final opponent was Jacqueline Dubrovich (USA), another member of USA's Women's Foil Team. Carolina was trading hits with Dubrovich until early in the third period, in which she unfortunately received  a hard blow of the foil guard to her head and neck area. This injury had a major negative impact on her performance and she fell away to lose 12-3, finishing in 3rd place.
After winning Bronze, Carolina said,
"The NAC was great preparation for the Senior World Cup I am competing in next week in Paris. Hoping to continue to fence well and gain points there next weekend as well."
Following the competition, her coach Dmitri Romankov said,
"We are very pleased with the result, especially given the tough opponents that Carolina had in the DE. The plan was to use this competition as preparation for next week's Senior World Cup in Paris, and in that respect it has given us exactly what we had hoped for."
Full results can be found here.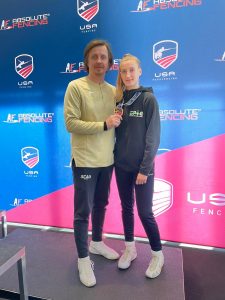 Don't miss the latest news. Subscribe to our weekly summary email, The Fencing Digest, featuring the previous week's latest news and announcements. Sign up here.